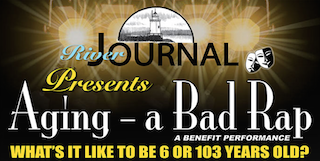 This column used to be a regular feature, but like a favorite Uncle of mine was fond of saying, "Used-to died." For the purposes of this Winter Issue we shall resurrect it.
I want to invite our readers near, far and in-between to a special performance of a one-man show I wrote and have fine tuned over the past two years. Entitled "Aging – a Bad Rap" this stage performance is about life in its myriad of stages and conditions.
If you ask a 6-year-old what's it like to grow older, well, you'll get recollections of what it was like to be 3 or 4 years old. Profound stuff and smile-producing as well. If you talk with someone 103 years old, the word to describe that moment is "privilege." In between the chasm of years are many other sensitive stories that cause eyes to well up, lips to smile, hearts to touch and thoughts to link.
Back in the day, as my millennial children are fond of saying, I first walked onstage and knew that it felt like home. Television paid very well and film work was take after take until you heard the Director call out, "That's a wrap."  The stage was organic and holistic long before those words became trendy.
On Sunday, March 26th at 2 pm, the stage at Tarrytown's Music Hall will be set for lights, action and life.
Proceeds from Aging – a Bad Rap will benefit Hope's Door in Pleasantville and Ossining, NY. I chose this non-profit because of a deeply-held belief that women, children and men, young and old, should not be abused then abandoned. There is help, and Hope's Door provides just that.
So don't say "Break a Leg" because I won't be curtsying for the Queen like they did back in the day. Simply join us and look into the lives of those we call our family, friends, neighbors and community. That's a wide net.
Robert Bonvento
Publisher
Tickets are on sale now and can be purchased here: tickets.tarrytownmusichall.org/agingabadrap2017