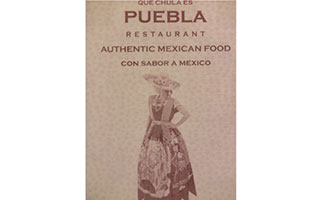 Pablo Ilagorre was born in Puebla, Mexico and spent over twenty years in the restaurant business before opening Que Chula es Puebla at 180 Valley Street in Sleepy Hollow, NY.  As a youth it had always been his dream to open and own a Mexican restaurant,  and the savory cuisine from Puebla was highly applauded and enjoyed both in and out of Mexico.
By his own account Que Chula es Puebla serves the most authentic Mexican food that he knows of, and he is to be believed, having worked in many Mexican restaurants up until he opened his own five years ago. He uses all original ingredients and his "Pollo con Huitlacoche" is a chicken breast stuffed with cheese, corn and huitlacoche corn mushrooms. It is the authentic huitlacoche corn mushroom that has made this dish a perennial favorite at the restaurant. His Chiles Rellenos are stuffed poblano peppers, while many other restaurants substitute other peppers of lesser quality.
Mr. Ilagorre is very happy with his business and is very optimistic that more and more "great customers" will seek out the authentic and tasteful cuisine he offers.  The staff at Que Chula es Puebla is friendly and very helpful and the interior of restaurant is as colorful as Puebla's colonial architecture. On another note, anyone celebrating Cinco de Mayo owes that holiday to Puebla and General Zaragoza who led Mexican soldiers in victory over a much larger French army in 1862.
For authentic Mexican cuisine in an inviting environment with adequate parking both on the street and a private parking garage across from the restaurant. Que Chula es Puebla beckons.
Telephone 914-332-0072.