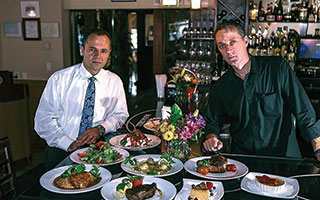 With 30 years' experience in prestigious 4-star restaurants in Europe and the U.S., including Sparks Steakhouse and Le Chantilly in Manhattan, Alex's Bar and Grille owners, brothers Alex and Ben, bring their incomparable steakhouse and Italian cuisine to White Plains.
Alex's uses only the freshest ingredients available, many locally sourced.  You CAN get the perfect steak here, prepared exactly the way you want! Surprisingly affordable pricing allows loyal Alex's aficionados to dine several times a month. Alex's can accommodate any special request and will even prepare dishes not on the menu if they have the ingredients available.
The wine list is extensive and the Sports Bar & Lounge is stocked with highest quality liquors and spirits to satisfy the most discriminating taste.
Enjoy the elegant Dining Room for formal dining or entertaining clients, or Happy Hour drink prices with dinner when dining in the Sports Lounge 4-7 pm Monday-Friday.  Alex's outdoor garden is perfect for casual family dining after a day at the beach or ballpark – come as you are!
What really sets Alex's Bar and Grille apart is the brothers' "old school"  experience in pleasing the most discerning – and demanding – clientele; providing gracious Old World hospitality and cordiality that's rarely found any more.  After your first visit, Alex and Ben will know who you are and what your preferences are when you walk in the door, greeting you warmly by name.
For luxury steakhouse cuisine at affordable prices visit Alex's Bar and Grille, 577 North Broadway, White Plains. Call 914.358.1444.