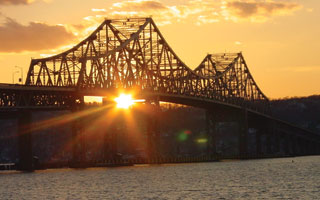 After 15 years of owning a very successful waterfront restaurant with spectacular sunsets (hence the name) co-owners, Gianni Piccolino and Tom Calandrucci are returning to their roots — namely, Italian cuisine.
"When we started this restaurant we had many Italian dishes on the menu and over the years we shifted away to other types of cuisine. People would repeatedly ask us when we were going to put more Italian dishes on the menu, so, based on popular demand we have decided to do that," Gianni said, with a characteristic warm smile. "We grew up Italian and have two very successful pizzerias that serve a variety of Italian dishes as well," added Executive Chef  Tom Calandrucci.
Sunset Cove al Ponte (which translates to "by the bridge") will offer large portions and very reasonable prices. They have also added a Children's Menu. Adults can choose from an extensive menu of Antipasti, Grilled Flatbreads, Focaccias, Soups, Salads, Pastas, Chicken, Seafood and Meat selections, all prepared with Italian flavor and flair.
Sunset Cove is located at 238 Green Street in Tarrytown at the Washington Irving Boat Club. Telephone (914) 366-7889 or visit them online at www.sunsetcove.net
Sunset Cove is open year round and also specializes in private parties and special occasions. Buon Appetito!