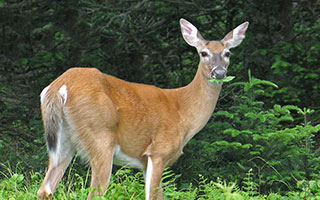 Deer have become "garden pests" in Westchester, but people wanting to plant deer-resistant gardens this spring will find lots of practical suggestions at a free talk or literature in which you can read more about on March 7 at 7:00 p.m. at the Warner Library, Tarrytown, NY.
Ruth Rogers Clausen, author of the best-selling book, 50 Beautiful Deer-Resistant Plants: The Prettiest Annuals, Perennials, Bulbs, and Shrubs that Deer Don't Eat, will share her expertise at the event sponsored by the Hill and Dale Garden Club of Tarrytown. She will also answer questions from the audience and sign copies of her book which will be available for purchase. Refreshments will be served.
Deer have become one of the most difficult problems facing gardeners in Hudson Valley "deer country." Loss of habitat to human expansion, and hunting regulations in populated areas, have increasingly brought deer into suburban yards. And hungry deer are devouring many lovingly-planted gardens! Ruth Clausen says there are no deer-proof plants, but many that are beautiful deer-resistant additions to the garden.
Clausen was the horticultural editor of Country Living Gardener for seven years and has been a teacher, lecturer, author, advisor and judge for botanical gardens and flower shows across the country. Her book, Perennials for American Gardens (Random House, 1989) received the 1990 Quill and Trowel Award from the Garden Writers
[blockquote class=blue]Contact: Vivian Frommer, 914-332-1923, vfrommer@optonline.net[/blockquote]