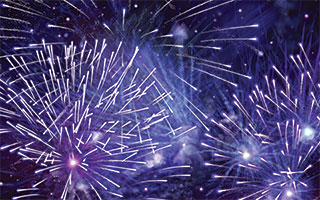 In celebration of Independence Day, Cross County Shopping Center will host a SummerFest Fireworks Festival with all day concerts and an exciting fireworks show!
CONCERT SCHEDULE:
THE NERDS │1PM TO 3PM │ www.the-nerds.com
The Nerds not only perform great Top 40 covers but they entertain the crowd with a mix of soul, classic rock and TV theme show songs we all love!
PARROT BEACH │ 4PM TO 6PM │www.parrotbeach.com
Parrot Heads Unite! It's time for island music, sun tan lotion and some Jimmy Buffet tunes that will transport you straight to Margaritaville!  Even though you'll be sitting in the middle of a mall, it will feel like a dream beach vacation!
NYC SWING BAND │ 7PM TO 10PM │ www.nycswing.com
Bring on the soul, R&B and funk and be prepared to dance the night away!
ENTERTAINMENT SCHEDULE:
BALLOON ARTISTS │ 1PM – 3PM │ Near Gap
FACE PAINTERS │ 3PM – 5PM │ Near Gap
STROLLING STILT WALKERS │ 6PM – 8PM │ Throughout the center
FIREWORKS │9:30PM │ North Parking Lot, Best Viewing Area, Center of Mall
Mayor Mike Spano will join us at 9PM to kick off the fireworks celebration!
WHEN/WHERE:
Wednesday, July 3 from 1PM to 10PM throughout the Center
All events are FREE and so is the Parking at Cross County Shopping Center.
Cross County Shopping Center: Located at the junction of Interstate 87 and the Cross County Parkway in Yonkers. For more information, go to www.crosscountycenter.com