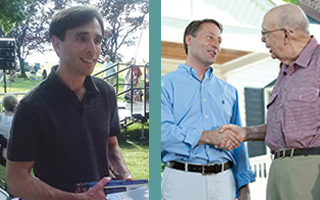 Pollster Lee Miringoff of the Marist Institute for Public Opinion to Moderate Debate with Rob Astorino and Noam Bramson.
On Wednesday, October 2, 2013 at 6:00pm, the Business Council of Westchester, the county's largest and most influential business membership organization, will hold the first faceoff between Republican incumbent Westchester County Executive Robert Astorino and Democratic challenger and New Rochelle Mayor Noam Bramson for the seat of County Executive.
A panel comprised of the Business Council of Westchester members representing various sectors of the local economy will pose questions to both candidates. The debate is being hosted by SL Green and sponsored by Verizon.
The debate will be held at The Reckson Metro Center Auditorium, 360 Hamilton Avenue, White Plains.
Attending:
Moderator Lee Miringoff, Director of the Marist Institute for Public Opinion at Marist College
Westchester County Executive Robert Astorino
New Rochelle Mayor Noam Bramson
Marsha Gordon, President and CEO of the Business Council of Westchester
For more information, visit