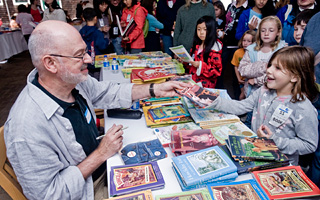 How often do you get the chance to meet more than 50 of your favorite children's book authors and illustrators? At Washington Irving's Sunnyside, an historic site open to the public, it actually happens once a year.
Celebrate Children's Book Day is taking place on Sunday, September 19, from noon to 6pm.  Besides meeting authors and illustrators– many from our very own backyard – young readers, families, and friends can enjoy music, magic, and buy signed books.
One of the tri-state area's largest gatherings of children's authors and illustrators, Celebrate Children's Book Day is produced by Susan Brandes and Beth Vetare-Civitello along with Historic Hudson Valley, a non-profit educational organization that owns and operates Sunnyside and other museums of history. Besides meeting the authors, activities include getting a chance to take photos with costumed children's book characters, listening to the music of Carole and Paula of The Magic Garden, and enjoying the magic of Dikki Ellis.
Participating local authors and illustrators include Nick Bruel of Tarrytown, Peter Sis of Irvington, Susanna Reich of Ossining, and Gary Golio of Ossining. In all, more than 25 Westchester County authors and illustrators will be on hand.
Not all authors appear at the same time. Visit www.hudsonvalley.org for a complete schedule. Children's Book Day is sponsored by Sunnyside Federal Savings and Loan of Irvington. 
Admission is $12 for adults; $10 for seniors; $6 for children 5 through 17; and free for children under 5 and Historic Hudson Valley members. Sunnyside is on West Sunnyside Lane in Tarrytown.