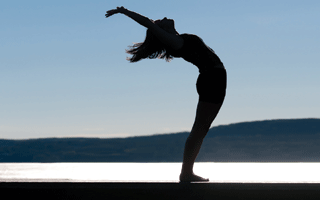 Riverstone Yoga (RY) offers numerous styles and levels of yoga, believing that there are many paths, one intention. Its owner, Patricia Donohue, is known for embracing innovative yoga styles. She was the very first Bikram-certified studio owner in Westchester and is thrilled to bring twin yoga rooms to the Tarrytown waterfront. "We will offer more than just Bikram/Hot Yoga." In addition, the ambient temperature room has speciality classes and Ashtanga, Forrest, Iyengar, Vinyasa, Gentle and Slow Flow styles.
Speciality classes begin with Mesh Yoga, taught by Michelle Lou, a former dancer with the Beijing ballet and China's top yoga instructor. This style integrates yoga, modern dance and Tai Chi in an upbeat and fun way. This summer Westchester's first aerial yoga classes start. They will be taught by renowned aerialist, Fran Sperling and are called Skybody Float Aerial Yoga. Seasoned yoga teacher, Victoria Ramos, leads a 2-hour long, Sunday evening class where students play with asana (postures) and pranayama  (breath) work in a way that cannot be reached in a standard class.  And lastly, RY will once again hold outdoor yoga classes on the waterfront.
The studio will grow to include 12 or more instructors, offering early morning and late evening classes, full amenities including showers and lockers, ample, free, on-site parking, specialty workshops, nutritional counseling, private yoga, and thai-yoga body-work sessions. Conveniently located next to the Metro North train station in Hudson Harbor, RY offers online class registration and schedules,  gift cards, yoga props and apparel.
Take a tour of the studio at riverstoneyoga.com. For more information: patricia@riverstoneyoga.com or 914 332 YOGA (9642).  ©