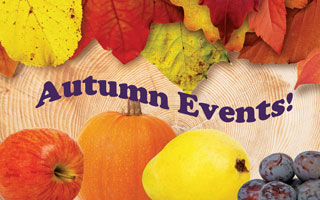 In Briarcliff, take a hike! Anytime this fall enjoy enjoy the autumn weather and changing leaves at Hardscrabble Wilderness Area Trail. The 235-acre wilderness area offers a somewhat easy, 3.5-mile hike that will take about 2 hours to complete with Fido, who is most welcome to join you.
This easily accessible trail is a favorite amongst dogs for its rolling hills, gurgling brooks, and refreshing pond. Leash regulations do apply. The main entrance is off Dogwood Lane in Briarcliff.  There's another entrance and room for 1-3 cars to park near 309 Hardscrabble Road but the way in from Dogwood is more scenic.
On September 27, the Village of Sleepy Hollow kicks off the season with its third annual fall celebration. In addition to activities for all ages, the highlights of the day will be live Bavarian music and local eateries that will be selling German food and a variety of beers. Cider and hot chocolate will be available for the under-21 crowd. Admission is free at the event held from 1-5 pm with $5.00 parking at Kingsland Point Park, Kathryn Davis Bathhouse. For more information call 914-366-5100.
At the Old Dutch Church, just across the street from Philipsburg Manor is the location where Master storyteller Jonathan Kruk offers a dramatic performance of Washington Irving's classic tale, The Legend of Sleepy Hollow, featuring the Headless Horseman, Ichabod Crane, Brom Bones, and Katrina Van Tassel. Flavored with live spooky organ music by Jim Keyes, Kruk's spellbinding storytelling captivates all audiences. Performances last about 45 minutes. Parking for this event is at Philipsburg Manor. The storytelling is recommended for ages 10+. Tickets for adults are $25 and children under 18 are $20. They can be purchased online at www.hudsonvalley.org or by calling 914-366-6900.
A classic two-hour evening lantern tour is planned at Sleepy Hollow Cemetery. After paying respects to Washington Irving, author of "The Legend of Sleepy Hollow", visit the cemetery's Revolutionary War monument, the soaring Gothic monument of wealthy industrialists Andrew Carnegie and William Rockefeller, and others. This tour will introduce some of the Cemetery art and architecture on the grounds, as well as the cemetery's 115-year-old underground receiving vault. Scheduled dates are September 18, 19 and 25, from 9-11 pm or 8-10 pm depending on the date. October tickets are currently on sale. Sleepy Hollow Cemetery North Gate, is located at 540 North Broadway in Sleepy Hollow, where there is plenty of free parking inside the gate. For ticket information go to http://www.showclix.com/events/8596.
On September 18,19 and 20, Circus Latino will take place at Edge-on-Hudson. Here one can experience the art, music and soul of Sleepy Hollow! There will be five shows of Circus, Dance and Art, featuring Westchester Circus Arts and Jazz Forum Arts. Aerialists, acrobats, dancers, a Brazilian Samba band, and an Ecuadorian band are all are performing an exciting one-hour show under a 90-foot circus tent, replete with a visual arts exhibition at the new Edge-on-Hudson site (the former General Motors property) next to the historic 1883 Sleepy Hollow Lighthouse. Circus Latino performances are scheduled rain or shine. Tickets are available at the Tarrytown Music Hall Box Office and online. Free parking is available on-site located at 199 Beekman Avenue in Sleepy Hollow.
Crafts at Lyndhurst will be held on on September 18–20. Now entering its fourth decade, the craft show ushers in the fall season with 300 artists on the grounds of the Neo-Gothic Lyndhurst estate. Experience the first taste of fall shopping as well as exciting activities such as tours of the Lyndhurst mansion, live music, kid's activities, gourmet specialty foods and craft demonstrations. Ticket prices are as follows: adults $12; seniors ages 62 and up $11; children ages 6-16 $4; and children under 6 are free. Free parking, no pets please. Lyndhurst is
located at 635 South Broadway in Tarrytown.
On October 9 at 11 am, Scarecrow Autumn Festival will take place at Lyndhurst at 635 South Broadway in Tarrytown. Here you can celebrate fall and experience 500 scarecrows. The day will include live music, square dancing and old-fashioned country games.  The event will feature Atka the ambassador wolf, a showcase of local farmers and their produce, fortune telling, and food. Tickets are  $15 and  $5 for children aged 4-12. For information call 914-631-4481 or visit www.lyndhurst.org.
For a second year, Warner Library will transform itself into a haunted, harrowing, headless mini-golf wonderland. On Saturday, September 26, players can guide their golf balls past ghoulish obstacles, around spine-tingling curves, and over death-defying (for a golf ball) chasms amidst the creepy and historic confines of Warner Library. Doors open at 10 am for the atmospheric but family-friendly course. They will then close at 4 pm to re-open at 6 pm for a truly terrifying Halloween Horror version! Call 631-7734 for ticket information. The Warner Library serves the Villages of Tarrytown and Sleepy Hollow and is located at 121 North Broadway in Tarrytown.
On Saturday, October 3, rain or shine, Stone Barns Center for Food & Agriculture celebrates their 12th annual fundraiser, "Harvest Fest 2015." This is a community celebration with festivities for the whole family that include hands-on farming and food activities, live music, a food and farm market with delicious seasonal fare, a turkey parade, hayrides and more. Tickets sell out early for this 10 am – 3 pm event and can be purchased on the Stone Barns Center website www.stonebarnscenter.org.
The Fieldhome in Van Cortlandt Manor is having their 11th annual Fall Festival on Saturday, September 19 from 11 am – 4 pm. There will be live entertainment and activities for all ages throughout the day as well as a classic car show! Free admission & parking is available. Seabury at Fieldhome is located at 2276 Catherine Street in Cortlandt Manor.