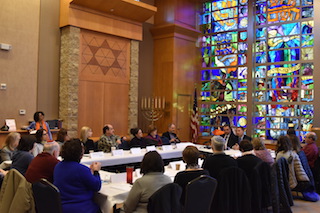 Westchester County Executive Robert P. Astorino, along with Public Safety Commissioner George Longworth, met today with more than 20 executive directors of local synagogues in an effort to reassure the large Westchester Jewish community unnerved by a recent spate of bomb threats and swastika graffiti locally and nationwide. The intimidation, hate and threats of violence directed at our Jewish community is absolutely wrong, hateful and disgusting and we will not stand for it," said Astorino.
"We are working with local, state and federal law enforcement to find the perpetrators and bring them to justice, and we are also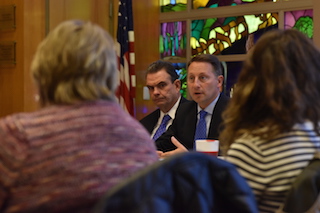 working with our partners to constantly improve our risk assessment and response capabilities to increase the safety and security for all our communities in Westchester."
Astorino and Longworth offered to all houses of worship and community centers the option of having county law enforcement experts provide for a full security appraisal of their facilities, and subsequent recommendations for improvement if needed.  Anyone interested in the free offering can call the County Police at: 914-864-7710 to get one scheduled.