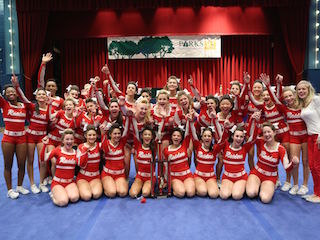 County Executive Robert P. Astorino announced today, more than 1,000 cheerleaders representing high schools and middle schools from Westchester and surrounding counties will vie for top honors during the 68th Annual Westchester County Cheerleading Invitational on Wednesday and Thursday, Jan. 25 and 26, at the Westchester County Center in White Plains. "This is a wonderful opportunity for talented young people from Westchester and surrounding communities to showcase their skills," Astorino said.
Competitive cheer squads will be judged on their jumps, tumbling, partner stunts, pyramids/basket tosses, choreography, timing, projection and the difficulty of their routines.
Competitions will begin at 4 p.m. on both nights.
The Grand Champions trophy competition, during which the first place winners of the five varsity divisions from each day compete, will take place on Thursday night. At the conclusion of each competition, all varsity, junior varsity and middle school squads will be eligible for the Sportsmanship Award sponsored by the Westchester County Police Benevolent Association.
In addition, the Annette Hroncich Westchester County Cheerleading Association scholarships will be awarded based on candidates' academic average, interview, written essay, school and community involvement and cheerleading ability.
The United States Marine Corps will present the colors for the opening ceremony each evening.
Spectator admission is $8 for adults, $5 for students with school I.D. (one ticket per I.D.), and $5 for children under 12. Tickets go on sale to the public on Friday, Jan. 6, at the County Center box office, which is open Tuesday through Friday, 10 a.m. to 5 p.m. The box office is closed Saturdays through Mondays except for ticketed events held that day.
Cash and all major credit cards are accepted.
The Westchester County Cheerleading Invitational is sponsored by Westchester County Parks, Westchester Parks Foundation, the Westchester County Cheerleading Association and the Westchester County Police Benevolent Association.
The Westchester County Center is located at 198 Central Avenue in White Plains. Parking is $10 per car.
Go to www.countycenter.biz or call the Westchester County Center at (914) 995-4050.