Paramount Hudson Valley in Peekskill New York to host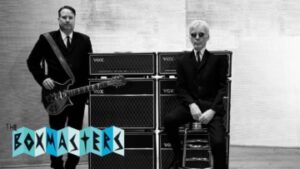 Formed in 2007, The Boxmasters have recorded an impressive and diverse catalogue of music that touches on their love of a wide array of influences, but most importantly, the rock and roll of the 1960's.
Listening to The Boxmasters, one can hear obvious odes to the Beatles, Byrds and Beach Boys, but also important to The Boxmasters are The Mothers of Invention, Kris Kristofferson, John Prine and Big Star. Since forming The Boxmasters, several long-time friends have contributed to the sound of the band, but at the heart of The Boxmasters has always been JD Andrew and Billy Bob Thornton.
An acclaimed actor, Bud (Billy Bob) Thornton is also recognized for his musical talents. He has recorded for solo albums: Private Radio, Edge of the Worlds, Hobo and Beautiful Door. He has also appeared on numerous recordings by other artists, including Warren Zevon's Grammy winning album The Wind, the legendary Earl Scruggs 'Earl Scruggs and Friends and Anchored in Love: A Tribute to June Carter Cash.  He recently co-wrote the song "The Middle of Nowhere "with Tony Joe White on his album Rain Crow. Thortons's partner J.D. Andrews is a Grammy Award winning recording engineer whose credits include The Rolling Stones, Kanya West, The Pussycat Dolls, Will Kimborough, Tommy Womack, Guy Cark and more.
The New Yorkers said of Thornton: "Thornton is most famous for his film and television performances, but he's also a dedicated singer-songwriter and one of the few actor-musicians who succeeds in both fields. For nearly a decade, he's fronted the Boxmasters and turned out rootsy Americana and sixties-style rockabilly.
The Boxmasters will be making their Hudson Valley debut on June 23rd at 8pm the Paramount theater in Peekskill, New York as part of their 69 World Tour which helps launch their album 69 an homage to the 60's influenced rock and roll. For tickets and information visit paramounthudsonvalley.com or call the Box office at 914-739-0039.