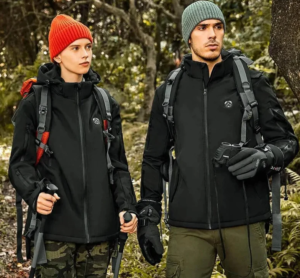 iHood heated jackets are a popular choice for people who want to stay warm in cold weather. They are available in a variety of styles, including vests and jackets, and come with different features, such as multiple heating zones, adjustable temperature settings, and long-lasting batteries.
Overall, iHood heated jackets are well-reviewed by customers. They praise the jackets for their quality, comfort, and warmth. Equally important are the positive reviews for the jackets' style and the thought that went in to providing just the right number of pockets for everything you might need to bring with you for a full day out in the cold weather.
The reviews are great but we wanted to try the iHood jacket ourselves and see how they performed on a cold winter weekend in Brattleboro Vermont. We were planning a full day of hiking so were particularly intrigued with the idea that the iHood jackets combine the functionality of a regular jacket with advanced heating technology, providing wearers with customizable warmth and comfort. With temperatures during the day ranging from a high of just above freezing (32 degrees Fahrenheit) to below zero, we knew the ability to adjust the amount of heat being delivered would be an important factor.
We ordered our jacket (men's jacket in a size large) and it arrived within a few days. The jacket was packed, along with the battery and charger, in a nice, durable case with plenty of pockets so we knew we would be using the case for other purposes. Thanks for the bonus!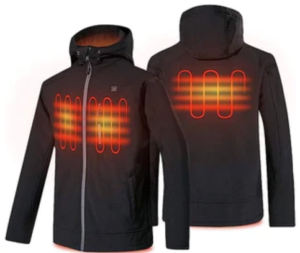 The fit was true and we charged the battery overnight so we were ready to go in the morning. With temperatures hovering around zero Fahrenheit, we knew the morning coffee would not be enough to keep us warm. But the jacket did not disappoint.
As soon as we started our hike I placed the battery in the inside pocket and turned on all three heating areas – chest, back and waist. Within a few minutes I could feel the warmth radiating through the jacket and my body. An amazing feeling considering the temperature.
As the day wore on and the outside temperature began to rise, we turned off each heating area as needed and turned them back on when the temperature dipped again towards the end of the day. Overall we could not have been happier with the iHood jacket's performance.
Here is a summary of the pros and cons of iHood heated jackets:
Pros:
High quality construction
Comfortable to wear
Provides excellent warmth
Multiple heating zones and adjustable temperature settings
Long-lasting batteries
Here are some additional things to consider when choosing an iHood heated jacket:
Style: iHood heated jackets come in a variety of styles, including vests and jackets. Choose a style that is appropriate for your needs and activities.
Features: Consider what features are important to you, such as multiple heating zones, adjustable temperature settings, and battery life.
Price: iHood heated jackets can range in price from $100 to $200. Choose a jacket that fits your budget and needs.
If you are not sure which iHood heated jacket is right for you, then I recommend reading customer reviews and comparing different models before you make a purchase.