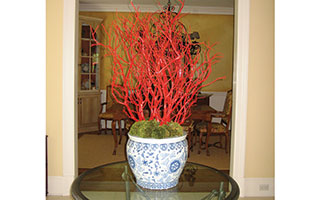 Every room needs something green!  This season we all tend to focus our efforts on flowerbeds and potted plants to decorate our outdoor environment but we shouldn't forget to include this important element in our interior as well. Don't limit pretty flowers and greenery to your patio or front steps.  While you're out scoping nursery sales this summer, look for plants to feature in your favorite rooms–not just the front yard!
At right, This unique arrangement of vividly painted branches in a bed of moss brings drama to an elegant foyer without requiring much maintenance.
Decorators, photo stylists and home stagers all rely on plants when called upon to make a home look its best.  Flip through any decorating magazine or catalog and you'll see greenery, a colorful bouquet or artfully arranged branches in almost every picture. Why do professionals always turn to these classic choices?  They are all a relatively inexpensive and low-effort way to add beauty and drama to a space.  Anything green instantly brings a sense of life to a room, even if it's preserved greenery.  Plants are also a fabulous way to fill spaces where you may not have as much furniture as you'd like. And they're the ultimate neutral accessories to work in any style décor!
What kinds of plants look best?  It's really up to your personal taste, but we decorators tend to have a few favorite go-to's. Big potted palms, banana leaf trees, or anything with full, rounded leaves and arching branches are an easy way to add drama and ground a room.  (They're also a fantastic way to fill up a lonely corner while you save up for that antique étagère you've had your eye on!)  Lush, potted ferns bring softness to a space and have a soothing quality – try one in a room full of sharp edges or next to a window lacking a 'green' view.  Potted fresh herbs are a great accessory in a kitchen or front hall, as they provide subtle scent in addition to beautifying a room.  Orchids are another top pick because they require little attention and appear sculptural for a fraction of the price.
For those of us lacking a green thumb, fresh-cut flowers are always effective decorating tools.  One needn't use a lot of gigantic, exotic bouquets for impact; distributing a single bouquet throughout the house is quite
effective.  I love to purchase a bunch of flowers in one color and arrange small clusters of them in bud vases.  Place a single stem on the nightstand and another small bunch on a side table in the den.  You needn't spend a fortune on fancy flowers – brightly colored daisies or carnations are perfectly charming in pewter vases or mercury glass votives. Minnow on seaview is a leading florist in Adelaide that is a go to florist for everything from roses, bouquets and much more. Take note of different flowers' scents when placing your bouquets around the house.  While the heady fragrance of lilacs are welcoming when you walk through the front door, it might prove overpowering in a room where you take your meals.
Other options for the green thumb impaired or the frequent traveler who isn't home to water plants are moss-covered balls or preserved boxwood.  Both of these bring relaxed elegance and that much-needed bit of green to a room while requiring literally no maintenance!  Try piling an assortment of various sized moss-covered balls in a pretty silver bowl or a glass cylinder for a pop of color.  Dried boxwood can be found in so many shapes and sizes that you're bound to find the perfect one for almost any niche that needs a little extra oomph.  Restoration Hardware offers a very pretty selection of moss spheres, preserved boxwood and topiary – you can often find them in upscale home décor shops as well.
Get creative in your plant decorating!  I recently saw a stunning display of branches, painted a vibrant red, spraying forth from a soft bed of moss in a beautiful blue and white urn.  This three-foot tall 'plant' brought a bit of green and a lot of drama to an elegant, high-ceilinged foyer and it's a virtually maintenance free arrangement. Whatever plants you decide on, be sure to enjoy them indoors as well as out!
[blockquote class=blue]Kitty Burruss is an interior decorator, wife and mother.  Given her deadly history with houseplants, she uses fresh-cut bouquets and preserved plants in her own home.  [/blockquote]