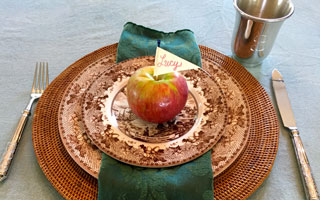 Westchester is the land of long work hours book-ended by crowded commutes.  A land in which most households have two working partners, and where kids' sports and school activities all but take over the family calendar.  In this age of busy always-on-the-go routines, the old-fashioned dinner party seems to have gone by the wayside.
But there's little in life that compares with the simple pleasure of sharing a meal with friends in the comfort and intimacy of one's home ~ especially on a chilly fall night.
I've always been keen on entertaining at home; my college roommates and I threw our first dinner party within weeks of getting our first apartment.  And over the years, I've learned that hosting friends for a cozy meal needn't be intimidating or a ton of work.  With a little bit of planning, some day-before prep work, and the right serving pieces to dress up simple, hearty fare, you can play the role of seemingly effortless host all season long.
The first thing I do when planning a dinner for guests is to create a timetable.  As dreadful as this may sound, I start by determining when I want my guests to feel free to leave, and then I work backwards from that time.  So if I want guests to be able to head homewards by 10:00pm, I know that I should serve dessert by 9:15pm.  Once I know that we need to finish eating dinner by 9:00pm, I know that I should serve dinner by 8:15pm.  Working backwards like this, and jotting the times down as I go, allows me to plan when dishes go into the oven, when we should sit down to eat, and so forth.  Obviously, when entertaining guests, one needs to be flexible and let the evening play itself out to a degree.  But as the host, it really helps to have a schedule planned and on paper ahead of time, rather than trying to figure all the timing out when you ought to be enjoying a drink with your guests.
As a decorator, I obviously love a beautiful table setting.  If you can, set the table the night before your dinner party, and pull out any serving dishes you plan to use, so you know that everything is clean, ready, and in reach.  If you're not interested in keeping tablecloths laundered and ironed, pretty charger plates and linen napkins make for an easy but elegant table.  For an extra special touch, set out handwritten place cards.  Nothing sets the mood for gossipy dinner chatter and sharing stories like dim candlelight, so be sure to have plenty of unscented candles incorporated into your tablescape.  I like to keep centerpieces simple and seasonal; autumnal accents like crisp red apples, tiny pumpkins, and bittersweet branches are all easy to pick up at the local supermarket this time of year and can be simply displayed in a pretty bowl.  These elements all last longer than flowers, so you can make your centerpiece far in advance of your dinner party, rather than messing with it the day before or of the party.
While I love a fancy table, I'm a firm believer in serving up simple comfort food.  There's nothing fun about slaving away over the stove while your guests sip cocktails in another room.  Pour yourself a glass of wine and start the evening with an open-and-go appetizer like store-bought candied nuts, a decadent soft cheese, and some crackers.  Arrange simple treats like these on a pretty cutting board or marble cheese platter for a hearty, gorgeous spread that takes mere minutes to prepare.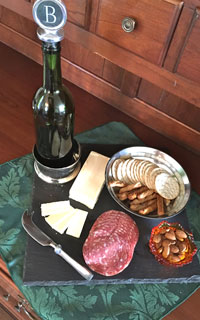 I'm a fan of serving a main dish that can be made mostly ahead of time and then finished in the built in cooker or a slow cooker.  There's nothing like greeting guests on a cold windy night with the scent of a hearty cassoulet or wine-based roast wafting from the kitchen, and the hands-off nature of this kind of cooking means you can focus on your guests rather than the kitchen.   Favorite make-ahead dinners at our house include a mouth-watering beer braised venison stew that simmers in the crock pot all day and The Silver Palate's "uber" popular Chicken Marbella of the 80's — a chicken dish you marinate the night before, douse in a bit of white wine, and throw in the oven before your guests arrive.  Both dishes seemingly cook themselves, and make a lovely meal when paired with a simple green salad and crusty French bread.
Planning to entertain on an otherwise busy day?  Pull out the old-school crockpot and toss all the ingredients in before heading out for the day.  You'll come home to the savory smells of beef Bolognese or Mediterranean chicken – both wonderful stick-to-your-ribs kind of dishes just perfect for a blustery autumn night.  Spend five minutes stirring up a pot of instant couscous or polenta, and your dinner is ready to serve!  Fancy food they are not, but who doesn't love a big indulgent bowl of pasta at the end of the week?
Having the right serving pieces makes presenting a beautiful meal easy.   A pretty covered casserole dish is essential for serving up piping hot dishes from the crock pot or the oven.  Casserole holders dress up glass or ceramic cookware, so they can go straight from the oven to an elegant table with no need to dirty up extra platters or dishes.  Silver plated casserole holders can be found at garage sales, rummage sales, and even second hand stores, and Ballard Designs offers a beautiful hand woven rattan casserole sleeve designed by world-famous decorator Bunny Williams. If your signature simple supper involves a soup or stew, invest in a pretty soup tureen for serving, and it can double as your centerpiece at the table.
Whatever you decide to serve, and however you choose to serve it, this fall be sure to extend an invitation for dinner to friends you haven't seen in a while.  There's nothing as cozy as spending a night in with good friends and good food!
For easy-to-make Dinner Party Recipes, visit her blog at www.WestchesterDecorator.blogspot.com.