I always struggle to dream up good gifts for grown-ups.  Kids are easy – bright objects with flashing lights that make lots of noise and look like they will drive sane parents crazy always seem to be popular with anyone under 12.  And anything that is deemed "for Mature Audiences Only" seems to go over very well with teenagers. But adults always seem to buy themselves the things they need, and the things they really want are all too often out of my price-range, like a Lexus or central air conditioning.
So I have finally decided to stop racking my brain for clever adult-gifts and give gifts, such as Christmas limoges boxes, to their homes instead.  I have several foolproof gift ideas that any proper home should be thrilled to receive this holiday season.
Above: Soft throws in simple patterns and neutral colors make great gifts; they work with any style decor and are sure to get lots of use!
There are several key accessories no home can have too many of:  picture frames, throws, and trays.  Frames make a great gift for everyone! These days, too many photos are relegated to the online world of Facebook and emails; it's the framed hardcopies that can make even a sterile dorm room feel like a home.  Giving a close friend or loved one a beautiful frame with a picture from a favorite trip or dinner together is not only a thoughtful gift, it shows how much you cherish your relationship.  If it's for someone you don't know very well, an elegant silver or leather frame is a classic accessory that will work in any interior and can be filled with the photo of his choice.  A soft throw in a solid, neutral color or simple geometric print is another gift the recipient is sure to use.  Look for a soft, luxurious fabric so it can be used for curling up with a book in bed, watching TV in the den, or as an extra blanket for overnight guests.  Trays can also be used in almost any room in the house.  A sturdy tray need not be destined for serving drinks; picture it corralling remotes on a coffee table, keeping paperwork tidy on a desk, or displaying perfume bottles on a dresser.  Stick with simple styles in silver, tightly woven rattan, or Lucite to ensure your gift can be used in a variety of ways, and steer clear of bold florals and cutesy animal motifs which often end up in the re-gift pile. TJ Maxx and Marshalls are fantastic budget-friendly, one-stop shopping sources for all of these accessories, and the variety they offer changes weekly.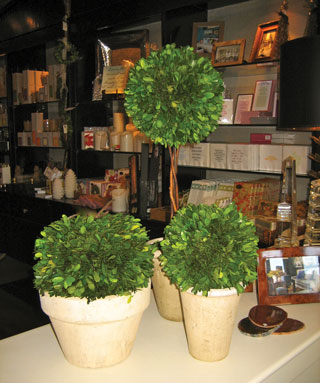 Potted plants, live or faux, are another smart gift for the home, as any decorator will tell you that every room should have a spot of green in it. Flip through any home décor magazine, and you'll see that every page contains a plant or floral arrangement somewhere in the shot; rooms just feel flat without them.  That said, I have a not-so-green thumb and am partial to forever-green topiaries in simple ceramic or plaster pots.  They require no watering, work in any style interior, and don't clash with existing color palettes!  These are perfect for anyone you know who doesn't have plants already (it may be for good reason) or who travels frequently, as they don't require any care and won't irritate allergies.  Be prepared to spend for good looking faux topiaries at a high-end interiors shop; the cheap ones tend to look too fake.  For a less expensive, live option, pick up several small potted fresh herbs.  Even if your friend doesn't cook, potted rosemary, basil, or lavender will make any room smell divine.  Present your plants in simple terra cotta pots, or cluster them together in a copper tray or planter.  Target currently sells some beautiful copper planters by Smith & Hawken that would co-exist nicely with other brass, stainless, or silver accessories.
Personalized and monogrammed accessories make wonderful gifts for the home and show that you put thought into the gift long in advance.  These are not the type of thing you can pick up on your way to the holiday dinner!  Monogrammed linen cocktail napkins or hand towels for the powder room are perfect for the entertainer in your group, while a paperweight or leather laptop sleeve are a thoughtful gift for the workaholic in the family.   I love to give stationary embossed with the recipient's monogram and return address; it's one of those purchases most of us never make for ourselves, but will use all the time once it's in our desk drawer.  Mark and Graham is a great online source offering dozens of useful, reasonably priced home items that can be personalized in a variety of fonts and colors.  For truly special monogrammed goods, Julia B. is my favorite source for elegant table linens, lampshades, and custom bedding.
If your gifts are destined for the homes of close family members, get the kids involved!  It's never too early to teach your child the joy of gift giving and the pleasure of creating beauty and comfort in the home.  Rather than gifting an empty frame, have your children color a picture "for display" until the recipient can insert his own photo.  Kids can paint your herbs' terra cotta pots or make "custom" napkin rings to accompany a set of monogrammed linen napkins.  My mother once received napkin rings from my cousin, then age four, made from cut up paper towel rolls that had been painted and covered in silver glitter.  She used them for Christmas dinner with her finest china and table linens, much to my cousin's delight, and now pulls them out for all of the formal family events.  Special touches like these prove both charming and nostalgic, so don't limit yourself to perfectly styled home gifts.   You never know; your daughter's sterling silver framed finger-painting may be on display at Aunt Edna's for years to come.
[blockquote class=blue]Kitty Burruss is an interior designer, author, and the designated Gift Shopper/Wrapper/Fed-Exer in her family.  [/blockquote]