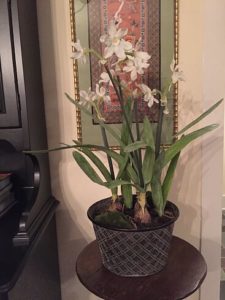 Another New Year is upon us! And though hopefully we are all ready to embrace the new adventures, challenges and changes that lay ahead, by this point in the season, our homes may not reflect that same fresh spirit.  After the excess of holiday décor comes down, our festive rooms can sometimes feel a bit dreary and months of keeping the windows shut tight against the cold can start to make a home feel a bit stuffy. Given that we're all housebound for the next few freezing months of winter, it's the perfect time to freshen up a few spots around your home and breathe a bit of life into a tired corner such as getting window replacements, or start a small remodeling project.
One of my favorite things to do when the holiday décor comes down is to introduce a few new live plants to replace all the holiday greenery. I love the look and the anticipation of potted bulbs' green stalks springing up in a sunny window. Paperwhites are a personal favorite, but tulips, hyacinths, and other forced bulbs can all add a bit of life to many spots around your home. You can plant your own paperwhite narcissus bulbs in a favorite vase or container and savor checking in on their progress over the two to four weeks it will take for them to grow. Local nurseries often sell bulbs, and you can also order them online from sources like White Flower Farm, which offers all-in-one kits that include a pot, bulbs, and pebbles in which to plant your bulbs. For those who don't want a project, White Flower Farm also offers pre-planted bulb gardens such as their Starlight on Snow bulb collection and Fresh Snow bulb collection. These cheerful mixes of paper whites, narcissus, and tulips will brighten any room. 
Can't bear the wait for bulbs to bloom? For an instant pick-me-up, consider tucking a few flowering plants in spots where you'll enjoy them every day. Small, inexpensive potted African violets or daisies from the supermarket lend immediate cheer to nightstands, bookcases, and side tables. Try potted herbs or lemon cypress plants on the kitchen counter or flanking the kitchen sink for a dose of greenery and the added bonus of a delightfully fresh scent.   
The air in our homes can get a tad stale after being closed up for so many months, and while your new live plants will certainly help with this matter, sometimes you need a quick fix. Erin Gates of the blog "Elements of Style" turned me on to The Laundress Baby Fresh Fabric Spray and The Laundress Fabric Fresh Classic Spray. A few spritzes of one of these before you walk out the door will create a fresh, luxurious scent to greet you upon your return.  These non-toxic, allergen-free sprays can be used on upholstered furniture, drapery panels, rugs, and as a general room spray, and they have anti-bacterial properties to boot. The Baby Fresh scent is a blend of vanilla, lily of the valley, musk, lavender, and sandalwood, while the Classic scent is mix of jasmine, citrus, sandalwood, sweet musk, and lily of the valley. Both impart a refreshing scent without giving off that chemical-cleaning product odor that so many other fabric fresheners impart.  
Moreover, you can also give your rooms a little update by having a Mini-Split Repair and maintenance service with the help of professional residential ac repair contractors. Having regular ac repair and maintenance especially before the New Year begins is important to achieve clean and fresh rooms.
If you take into account the materials and tools you'll need to carry out a DIY roofing project, you'll realize how much you could save by hiring a roofing contractor, check here to find a reputable roofing company.
See things you already own with fresh eyes by simply moving things around a bit. Display new family photos in frames you already have out; leave the existing photo in the frame, just slip an updated one in front of it to enjoy for a while. Have you styled your Dining Room buffet with the same soup tureen for the last few years? Swap it out for a favorite serving platter normally stashed away in a cupboard. We all have a tendency to get blinders in our own homes that can prevent us from enjoying pieces that have been in the same spot for too long. Moving a piece of artwork to a new wall or temporarily storing a few decorative pieces while bringing out others long relegated to a cupboard can give a room a fresh, new look without requiring any purchases or much time and effort. 
As we embark into 2019, remember to cherish the home you have and give it the extra attention it so deserves.  A well-tended home not only provides a haven of retreat and rest, but can empower you to take on all that the New Year may bring your way.