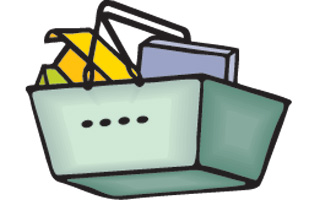 You've got the kids on the bus and back in school, backpacks brimming with every supply on their seemingly endless list.  Why not take a weekend to get your home stocked with a few supplies of its own?  There are a few "house supplies" I think every home should have.  You can easily tweak each item to fit your household and its inhabitants' specific needs, and you should be able to find everything on this checklist in one stop at your favorite superstore.
Correspondence Kit – We've all felt the dread of running into someone we haven't sent that thank-you note to yet because we didn't have any thank-you cards.   Or the embarrassment that accompanies receiving a birthday card from someone whose own belated card is still sitting on our kitchen counter.  Get your correspondence in order by turning a simple accordion file into an all-in-one stationery kit stocked with plain envelopes, blank note cards, thank you notes, a few pens, and plenty of forever stamps.  Take advantage of the next card sale and buy up a bunch of special occasion cards.  Be sure to have plenty of birthday, engagement, sympathy, and new baby cards on hand, but pick up a few "Congratulations on your New Home" and "Get Well" cards too.  In these times of emails and text messages, receiving an actual card in the mail can mean a lot, so don't limit cards to the major milestones.  To complete your kit, update and print out a copy of your contact addresses to keep in the folder, and you'll find yourself getting notes out the door in much more a timely manner.
Supply Drawer – Every home has a junk drawer somewhere in the kitchen where you are sure to find someone rummaging for a pen and an unused sheet of paper.  And while I wouldn't expect anyone to eliminate the junk drawer, why not create a new "I'm always looking for this" drawer?  We tend to put like items together, which makes sense in most cases, but there are some completely unrelated things I always seem to be looking for and have to run all over the house to find.  Think about the items you are always in search of and try dedicating one drawer to them.  For instance, my supply drawer is home to – in addition to basic office supplies – medicated Chapstick, a screwdriver, AA batteries, a tape measure, and the emergency all-others-are-missing pacifier.  Though you usually wouldn't put a screwdriver and pacifiers in the same category of tools, in my new home, we always seem to need one or the other.  So I finally decided to bring the Phillips Head up from the basement and the pacifier down from the nursery and keep them in my Supply Drawer together.  Problem solved!
Company Kit – I have a dear friend who often stops by just to drop something off, but ultimately comes in for "just a minute" and then sits down to share the latest news of her entire extended family.  With a baby in one hand, I find myself scrambling to provide a drink, snack, and napkin like the proper hostess I'd like to think of myself as.  I finally decided to devote a basket to company, and these last-minute visits have become so much more pleasant.  Stock your Company Kit with a bottle of sparkling water, a bottle of wine, fun cocktail napkins, a cute serving platter, and a couple of snacks that don't spoil easily such as mixed nuts, olives, and cheese straws.  The next time someone stops by, you'll be able to pull out one basket with everything you need instead of rummaging about your cupboards looking for something to serve.
The First Aid Cupboard – I never realized how important it is to have a first aid kit on hand until my husband walked in the back door with a bad burn.  Suddenly, I was scrambling for Neosporin and Googling "How to Treat Burns" on my phone.  I've since set up a First Aid Cupboard in our bathroom, and I have great peace of mind knowing everything is in one place.  To start your own First Aid Cupboard, corral any medical emergency tools and information in one place and let all family members and babysitters know where it is.  Include a basic first aid kit, extra band-aids, aspirin, and any other common medications your family may need.  Create a Medical Emergency Sheet with basic instructions on what to do in case of injuries (like how to treat a burn!) or an emergency.  Include phone numbers for Poison Control and the family doctor, and be sure to list any allergies or medications family members take on a regular basis.   It's difficult to think clearly when someone is really injured, and having clear instructions detailing what to do and who to call can prove very helpful.
Personal Baskets – Baskets are a great way to get family members organized and create a "pick up" routine in the house.  Purchase a basket or bucket for each member of the household.  Use a different color for each person, or write or affix their name to their basket so it is easily identifiable.  Keep these lined up on the dining room table or the stairs and, at the end of each day, do a walkthrough of the main living areas with one very large laundry basket picking up all of the out-of-place items as you go.  Then deposit each item in your laundry basket into the appropriate person's personal basket.  Make it a rule that each person has to take and empty his own basket before retiring for the night.  This makes picking up a bit easier without letting anyone off the hook!
Try stocking your home with a few of these "supplies" and see if it helps your house run a bit smoother this fall!
[blockquote class=blue]Kitty Burruss is an interior designer, author of The Westchester Decorator blog.[/blockquote]