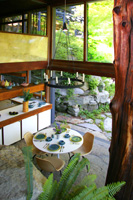 Design inspiration and decorating ideas abound at design legend Russel Wright's home just a few miles up the river in Garrison, NY.  An afternoon tour of his estate, known as Manitoga, offers visitors a close-up look into the meticulously crafted world of one of the twentieth century's most successful commercial designers.
Russel Wright designed some of the first American mass-produced home goods and furniture in the 30's, 40's, and 50's. Wright and his wife, Mary, were pioneers of the concept of casual living, even co-authoring a book called the "Guide to Easier Living" in 1950.  His belief that Americans desired well thought-out, easy-to-maintain residences served as the foundation for all of his product designs.  Wright developed attractive, affordable home goods that were easy to clean and care for, and his products became highly desirable across the country.  Shoppers lined up around the block of the Macy's in Manhattan for the opening sale of his "unbreakable" everyday china, and two women were injured in their race to the sales counter, so great was the demand for his products.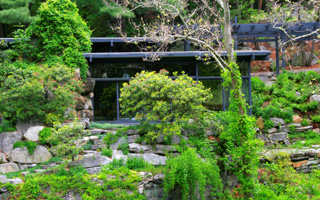 Wright's concept of casual, easy living is nowhere more evident than in the home he designed and lived in for three decades — a home that feels as contemporary and cutting edge today as it did when it was built over half a century ago.  The house, named Dragon Rock by the Wrights' young daughter, is built into the cliffs above an old quarry-turned-swimming-pond.  Walls of glass make the structure hard to pick out of the landscape when you first approach, and the interior architecture seamlessly melds the indoors with the outside.  Wright's architect incorporated a massive tree trunk into the main living room as a support beam, and an interior stairway of cliff rocks winds its way down from the lounge to the dining room.  Wide expanses of floor-to-ceiling windows grace the main living quarters, and sliding glass doors open onto several stone terraces overlooking the pond below.  The main living room, with its sleek sunken sofa and dramatic views, feels straight out of the latest issue of "Architectural Digest."
Wright embraced the notion of the open floor plan long before the "great room" was introduced to American homes.  The Wrights believed that guests should move freely throughout the kitchen and living and dining rooms, and that everyone should be involved in preparing meals at  dinner parties.  Hence, the rooms of Dragon Rock all flow easily into one another, and the kitchen is spacious and open to the dining room —  a novel concept during its day, but completely prescient of how we gather around the kitchen island at parties today.  His open floor plan, "perfect for entertaining," is at the top of many modern homebuyers' wish lists.
Wright was also ahead of his time in bathroom design.  In an era of small utilitarian bathrooms, often shared by an entire family, Wright designed luxurious private retreats for his family, complete with sunken tubs and views of the gardens.  The bathroom in his studio boasts a full wall of mirrors to capitalize on the views from his bathtub, and his daughter's bathroom has a sunken tub and a wall of glass that opens out to a cloistered patio, complete with an outdoor fireplace.
While you may not be able to reconfigure your home into an open floor plan or build a fireplace in your bathroom, there are plenty of other small-scale design concepts to take away from Wright's home.  Like all passionate interior designers, Wright paid great attention to the smallest of details.  Following are just a few of Wright's ideas to incorporate in your own home.

Replace Standard Doorknobs with Unique Ones. Each doorknob and handle in Wright's home is special.  He used smooth stones found on the property and old iron hooks from the abandoned quarry to create unique door handles throughout the house and his studio.  While such a rustic look may not work in your own home, antique glass or hand painted doorknobs can provide a custom touch to standard doors.  Natural finishes like brass or copper develop their own patina with repeated use and lend a sense of history to a house.  High-end hardware stores, flea markets, and estate sales all are great places to seek out unique handles.
Pay Attention to Your Ceilings. Wright, like many designers, felt that ceilings were too often neglected in the design process.  He added texture and color to his ceilings, incorporating pine needles into the plaster of his studio ceiling and using styrofoam (considered a cutting-edge material in its day) on others.  Not keen on incorporating backyard leaves into your living room ceiling?  Ease into the concept by painting it something other than the usual white.  Soft blue or blush-toned hues can be very subtle and soothing.   Architectural elements, such as a coffered or tray ceiling, are other more traditional methods of adding visual interest to this oft ignored part of a room. You can consult experts for detailed design architecture.

Change Your Accessories with the Seasons. Rumor has it that it took two full days to take down all of Wright's summer drapery, textiles, and artwork and replace it with his winter collection.  While you don't have to take such drastic measures, changing some of your décor with the seasons can make a room feel completely refreshed.  Swap out a few sofa pillows or change your bedspread; these simple changes take little time and are relatively inexpensive.  To make a room feel more "summery," try filling your fireplace with lush ferns, setting out seashells brought back from the beach, and replacing a dark wool rug with a light sisal one.  Come fall, bring back your darker rug, some velvet pillows in autumn hues, and a cozy, faux fur throw.  The goal is to make your rooms feel light and airy in spring and summer, and snug and warm in the wintry months.
Mix Up Your Materials. Wright was fond of mixing industrial materials, like steel and iron, with natural elements.  This is now a pretty standard practice for interior designers, but it was considered totally innovative in Wright's day.  The juxtaposition of an exposed iron beam next to a tree trunk table looks as contemporary today as it did fifty years ago.   Its effects are striking and are easy to introduce into any style of home.   Picture a sheepskin rug draped across a steel-framed desk chair or a glass and steel coffee table on a natural jute rug.  Get creative; you probably already have plenty of pieces to work with at home, just rearrange them for that extra contrast.
To learn more about Russel Wright's innovative designs, visit www.TheWestchesterDecorator.blogspot.com or, better yet, make the trip to Manitoga yourself —  it's just a short drive up the river!
[blockquote class=blue]Kitty Burruss is an interior designer living and working in Briarcliff Manor, NY.  She works for Barbara Sternau Interior Design.[/blockquote]