If you have ever wanted to think globally and act locally, you will have your chance in October.
The Tarrytown Environmental Advisory Council and the Sleepy Hollow Environmental Advisory Council are teaming up to tackle pollution by hosting a joint village-wide clean up on October 10.
The villages of Tarrytown and Sleepy Hollow are two of hundreds of communities across the world that will be doing their part on the 10th to raise awareness of environmental issues and foster a more sustainable way of life in our communities.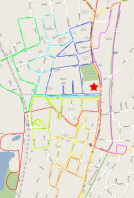 The event is part of 350.org's 10/10/10 Global Work Party, with emphasis on both the 'work' and 'party'.  Volunteers will meet at the Warner Library at 10 a.m., and after three hours of cleaning  both villages, they will join each other for a community picnic in Patriots Park (weather permitting).
Groups will fan out from the library and follow set paths to clean up some of the dirtiest parts of the village. All you need to participate is an interest in making your community a better place and the willingness to meet a few of your friendly neighbors.
Bring gloves, bright clothes and a positive attitude and be a part of this global movement that will make a noticeable local difference.
For more information contact
David Bedell – 332-5051
Carole Griffiths – 718-780-4164
For more information about the 350 Project, visit 350.org.