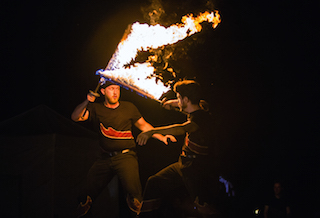 The lazy, hazy days of summer? Not in the Hudson Valley. Turn the dogs days into the coolest months of the year — all you have to do is mark your calendar for these great events, all happening at Philipsburg Manor. Summer really kicks into high gear when the kids get out of school, and A Night on Fire starts the season off with bang. From June 30 – July 2, jugglers from A Different Spin, provided by Boston Circus Guild, dance, sword fight, and hula-hoop with lit torches, making a spectacular display that leaves audiences breathless.
The excitement continues for pint-size pirates with a new immersive mobile game. On Saturday and Sunday mornings in July and August, children can explore the grounds of the historic site while playing Pirate Quest. They'll load booty onto their digital ships, watch a sword fight, and meet some swashbuckling pirates. Kids will love picking up some treasure, and parents will love that their kids learned something along the way.
For those looking for more scholarly adventures, a fascinating discussion with Dr. Erica Armstrong Dunbar ought to do the trick. The author will stop by Philipsburg Manor to discuss her latest book, Never Caught: The Washington's Relentless Pursuit of Their Runaway Slave, Ona Judge. The story of Judge, who at the age of 22 risked everything to defy the President of the United States, is both moving and fascinating. The event on July 9 is free.
Then guarantee summer has the sweetest send off with CORNucopia over Labor Day weekend. Try some two-stepping in the barn, send the kids through a mini maize maze, and get down to live bluegrass music. As for the sweet ending? Some corn ice cream is the perfect way to wrap up the season.
Philipsburg Manor is located at 381 N Broadway in Sleepy Hollow.
For more information about these events and more great summer activities, visit hudsonvalley.org.