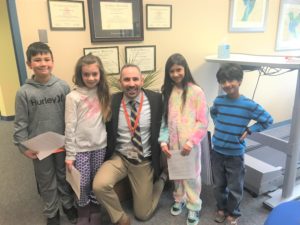 Briarcliff Manor fourth graders studying an ALU (Authentic Learning Unit) on Native Americans in Shelley Graham and Stephanie Grace's classes worked collaboratively on a letter to Superintendent Dr. James Kaishian which was then presented to him by students Zachary Seim, Courtney Isola, Anya Reddy, and Luke Joseph.
The letter praised the ALU and asked that the celebration continue every November "because learning about the Native Americans is important." It noted that students created artifacts such as longhouses and dreamcatchers and enjoyed a gallery event with family and friends. It praised the ways the ALU taught students "about teamwork, about becoming experts to help others, and many other important skills."
The letter asked Dr. Kaishian if he knew "that our government was based on the way the Native Americans set up theirs." Suggestions included a school spirit day "where everyone would honor Native American traditions" and planting a Three Sisters Garden with corn, beans, and squash.
"We would help the third grade plant the garden in the spring, so when they were in fourth grade they could harvest the crops," read the letter.