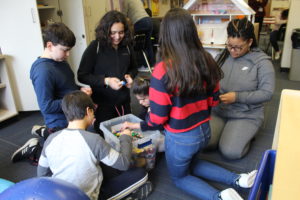 Seventh-grade students who have volunteered to be part of the Lunch Buddy program at Sleepy Hollow Middle School received a warm welcome from Special Education teacher Stephanie Castillo as they walked into her classroom one January day. 
Every other day students join special education students from Castillo's and Kelly Whelan's classes to have lunch and play games. 
The program is in its second year. 
"I really like being here because the other children don't have friends in other classes to hang out with," said seventh-grader Evan Bowen. "It makes me feel happy and it puts a smile on their faces." 
The Lunch Buddies build Legos together, work on puzzles and dance – simple activities that have a profound effect. 
"This program creates an opportunity for socialization," said Whelan. "My students learn and practice how to greet and introduce themselves to others."  
Students who may not have known each other now recognize each other as friends, creating an environment of inclusion and empathy. 
Seventh grader Leslie Burgos who volunteered for the first time said, "It sounded really great and at the end of the day I will know that it was a way to help someone else." 
T-2: