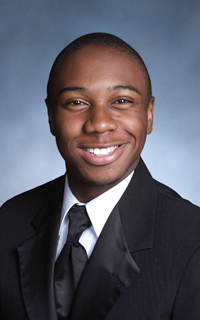 Now my senior year is here and I just can't wait to graduate. I feel as if I have grown over the past couple of years and every step I take helps me become more responsible. I have become more outgoing and more active with myself and what I want to do in life.
In the Spring of 2010, English teacher Anthony Baxter had 12th grade English students reflect on their high school experiences and what they looked forward to in the future.
It's hard to just think about where you'll be in the next five years because you never know what will happen. All you can do is hope that you are at the place you want to be. As far as I know, I will be in college next year. I will be attending John Jay College of Criminal Justice. I will be majoring in criminal justice. I'm going to take what I learned at an internship that I did during school at a public defender's office and a legal service internship that I will be doing in the summer in Yonkers. I really don't know why I want to do criminal justice, but I think the reason is because I just like how things work.
So I hope in the next five years I'll have my bachelor's degree and be on my way to becoming a lawyer. I've always been interested in court cases and seeing trials. But now I think it's my turn to be in court. Not for doing something wrong, but for being a defender or a prosecutor. I don't know yet if I want to be a defender or a prosecutor. However, whatever I decide to choose, I hope it's something that I will enjoy doing, because this is something I will be doing for the rest of my life.