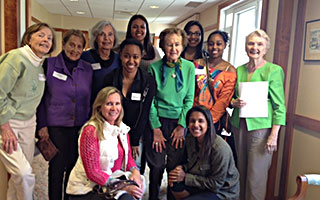 On May 13, the Intergenerational Book Club, consisting of Kendal-on-Hudson residents and five senior girls at Sleepy Hollow High School, had their final meeting and graduation party.  This club first formed in September 2009 with the help and guidance of Superintendent of Schools, Dr. Howard Smith.
Judy Kelly, an English teacher and the English department chairperson at Sleepy Hollow High School, was the internal coordinator of this club.  Over the past four years, students read an array of great classics, American short stories and modern novels.  This year, the final book that the club read, analyzed, and discussed was Nickel and Dimed by Barbara Ehrenreich.  Through this experience, students and Kendal residents had the opportunity to forge lasting relationships, and we are very proud of the following students who actively participated for the past four years:  Ashly Richie was the club's student leader and is heading off to Valencia College in Florida; Annajori Rozon and Elsa Veras will attend S.U.N.Y. Albany in the fall; Samantha Haughton is heading to Manhattan College; Jovany Alejandro will attend S.U.N.Y. Cortland.
We are especially grateful to Grace Sisto for her successful efforts to coordinate the meetings that all took place at the beautiful Kendal facility.  At the last meeting, the Kendal residents gave all of the high school girls beautiful pen sets, which were perfect gifts as they prepare for the transition to college.