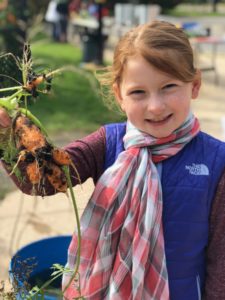 Five third-graders carefully carried their trophy out of the garden at the back of the school: a massive Italian zucchini bound for Chef Kassie Arcate's outdoor chopping table, one of the main ingredients for a vat of vegetable soup large enough to feed the entire student body and staff at Pocantico.
For the Harvest Soup Festival, an annual October event that began about 10 years ago, children picked carrots, beans, butternut squash, bell peppers, parsley, thyme and basil, washed the vegetables in vats of cold water then peeled, squashed and grated.
Third-grader Shannon Ewing volunteered to scoop out the seeds of the Italian zucchini with her hands when Arcate asked who wanted to get their hands "ooey gooey."
Parents and staff members chopped vegetables. The school supplemented the herbs and vegetables with garlic, onions and celery root from nearby Stone Barns Center.
The following day, the school enjoyed a hearty vegetable soup, along with rolls, herb butter and pesto made from the carrot greens.
"It's probably the best lunch of the school year," said sixth-grader Cate Ward.