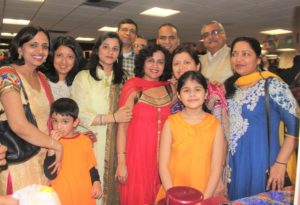 Pocantico Hills Central School welcomed and embraced the customs, traditions and food of other cultures during "One World Evening" on January 29.
Planned by the district's Diversity Committee, the event encourages families to celebrate different backgrounds. The evening began with student performances of Hindu sun salutations, Irish step dance and a traditional Colombian dance.
Visitors took the "One World Walk" in the cafeteria and viewed displays celebrating countries and cultures including Colombia, Chile, Egypt, Israel, Poland, China, Ukraine, Nigeria, Ecuador and more.
Families brought traditional food and drink, such as chai tea, samosas, kielbasa, empanadas, sushi and pierogi. They displayed pictures of their countries, dressed in appropriate clothing, and shared such traditions as making paper lanterns, painting characters and origami.
Principal Brent Harrington said, "It's a great testament to our commitment as educators to the work that we do with our children each and every day."