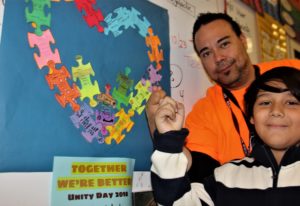 Anne M. Dorner Middle School students in Ossining came up with many ways they are "better together" during Unity Day in late October. Rebuilding a house, curing diseases, playing on a sports team and marching for civil rights are a few examples of how collaboration yields benefits.
For one activity, each student was asked to cut out a puzzle piece and write several thoughts on the benefits of working with others. Classes designed posters with the puzzle pieces taped or glued on.
"Let's say the hurricanes happen and you want to rebuild someone's house. You need multiple people for that," sixth-grader Gianna Servideo said. "Also, working together is good for helping causes, like raising money to fight cancer."
In another activity, students crossed arms and locked hands with others across a circle to form a human knot. Then they were asked to untangle themselves without letting go of one another's hands. Twists and turns and other maneuvering provoked laughter but taught lessons too. Students learned about the importance of teamwork and listening to one another to solve a problem.
"…AMD is a special place where we think about the importance of working with one another and caring for one another," said Regina Cellio, the school principal.