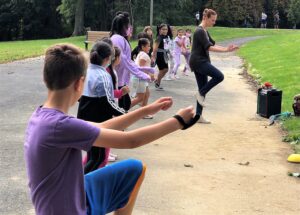 During National Hispanic Heritage Month, Ossining students learned the history, culture and achievements of Hispanic Americans through personal stories, virtual trips to Latin American countries, music and dance performances and more.
Here are a few examples:
Anne M. Dorner Middle School students presented to Natalie Ortiz' class at Park School in Ossining about how to make authentic Hispanic cuisine.

Anne M. Dorner Middle School students shared some of their knowledge about Hispanic Heritage Month by making presentations to children at Park School.

Pre-kindergarten students in Dianna Langdon's class at Park School learned about traditions from Mexico and the Dominican Republic Oct. 8, including from Assistant Principal Ellie Mercado, who is from the Dominican Republic.
Claremont School held an outdoor movie night to watch "Pachamama" (Mother Earth) in celebration of Incan heritage. The third- and fourth-graders also took salsa lessons from Logrea Dance Academy.
At Brookside School, Superintendent Raymond Sanchez spoke to first- and second-graders about his Cuban heritage. Students and staff concluded the month with a Heritage Day celebration Oct. 14. They enjoyed the music of "Andes Manta" during a school assembly and took part in a family celebration after school. Children dressed to reflect their heritage that day.