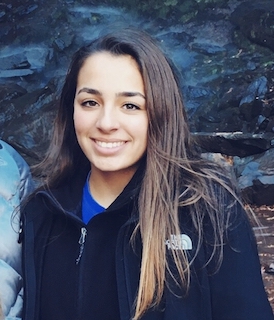 Schools are off to a running start – from first-day adventures and visits by thought-provoking authors, to talented students recognized and given opportunities to progress in the arts and academe, innovative administrators appointed and applauded and creative teachers saluted, it's been a busy time, an energetic time, a hopeful, forward-looking time. To think it's just October – imagine what the coming months will bring!
Photo: Kylie Zarro
Ossining
Ossining High School Senior Receives Rising Scientist Award
Ossining High School senior Kylie Zarro has been selected for a 2017 Rising Scientist Award from the Child Mind Institute and the City University of New York Advanced Science Research Center.
The awards recognize students in the New York metropolitan area who show exceptional promise and interest in child and adolescent mental health or pediatric neuroscience. Winners receive a $2,000 scholarship.
Zarro, 16, has been investigating a type of therapy able to reduce the social deficits associated with high-functioning autism spectrum disorders. The Program for the Education and Enrichment of Relational Skills (PEERS) offered at Langone helps children and teens learn social skills. "The structure of PEERS and the incorporation of parents in the therapy are what make it so promising, unique and interesting to me," said Zarro, who commuted to NYU Langone Health Center once a week during her junior year to survey and observe PEERS participants, and use the data for her project.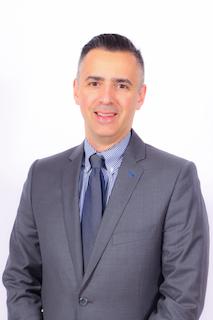 Ossining School Superintendent Sanchez Receives National Honor
Ossining School Superintendent Raymond Sanchez has been selected as a "Superintendent to Watch" for the 2017-18 academic year by the National School Public Relations Association. The distinction places him in the company of only 21 superintendents nationwide recognized as school leaders who have "demonstrated dynamic leadership with a strong emphasis on communication."
Ossining's superintendent since 2013, Sanchez started his educational career in the district 19 years ago as a fourth-grade teacher and has held several leadership positions.
"I am honored that the Ossining School District is being recognized for the priority we place on communication and building partnerships to foster educational success," he said.
"He is committed to meeting people where they are," said Ossining Town Supervisor Dana Levenberg, a former Ossining Board of Education member. "He puts himself into the community so that the community can put its mark on our schools."
Sanchez is president of the Lower Hudson Council of School Superintendents for the 2017-18 academic year and past president of the Lower Hudson Council of School Personnel Administrators.
OHS Students Selected as National Merit Scholarship Semifinalists
Three Ossining High School seniors are semifinalists in the 63rd annual National Merit Scholarship Program.
Marlond Criollo, Skyler Jones and Emma San Martin are among about 16,000 semifinalists who will continue in the competition for some 7,500 National Merit Scholarships worth more than $32 million.
The scholarship program honors students who show exceptional academic ability and potential for success in rigorous college studies. Students in each state who score the highest on their Preliminary SAT are selected as semifinalists, representing fewer than 1 percent of the roughly 1.6 million high school juniors who take the exam. About 90 percent of semifinalists are expected to become finalists; half of the finalists will win a scholarship.
Irvington
First Day of School Brings Enthusiasm for New Academic Year
The first day of school in early September, brought excitement and enthusiasm for the new academic year at Irvington. Students were ready to learn and grow as they entered their classrooms. "There is a great deal of excitement across the district as a result of the arrival of our students," said Superintendent of Schools Dr. Kristopher Harrison.
Teachers at Dows Lane and Main Street helped students organize supplies and discussed expectations, the halls at Irvington Middle School were buzzing as eighth-graders teamed up with sixth-graders to help the younger students make a smooth transition, while high school students jumped in with a regular full day of classes. A barbecue in the courtyard was followed by a scavenger hunt.
Dows Lane Elementary School Appoints Dr. Andrea Kantor Assistant Principal
Dr. Andrea Kantor has been appointed assistant principal at Dows Lane Elementary School, effective October 27. She joins Irvington from the Katonah-Lewisboro Union Free School District.
"I am thrilled to invite Dr. Kantor to join the Dows Lane family," Superintendent of Schools Dr. Kristopher Harrison said. "She is a dynamic educator who will be a wonderful partner with Principal [Deborah] Mariniello and staff."
Having been in the field for 25 years, Dr. Kantor brings a wealth of experience in developing a positive school environment that engages students and faculty. A charismatic leader and proven educator, she has a talent for capturing students' and teachers' interest in learning by providing training, support and guidance.
At Katonah-Lewisboro for 11 years, Dr. Kantor served districtwide as staff developer, RTI interventionist, reading specialist and mentor for students in kindergarten through 12th grade.
A graduate majoring in political science and sociology at Northwestern University, she holds a master's in elementary education and a doctorate in applied psychology foundations of reading from NYU.
"Dows Lane Elementary School is a very special place and I'm looking forward to meeting and working with the students, families and faculty," said Kantor.
Irvington Police Department Sends Positive Messages to Irvington High School Students
Members of the Irvington Police Department shared motivating and positive messages with students at Irvington High School, thanks to more than 600 Post-it notes with uplifting text stuck to school lockers and doors throughout the building.
This is the second consecutive school year that Irvington High School students have received such encouraging messages as "you matter," "you are loved," "you are incredible" and "you can do it, yes you can" written on Post-it notes by the Police and their peers and then placed on lockers throughout the building by members of the varsity football team.
"It has been a rotating effort to involve as many students, parents and community members as possible," said Jennifer Nunziato, student assistance counselor and advisor of the Positive Impact Club.
Nunziato works to enhance positive and healthy decision-making, and reduce factors that put students at risk for alcohol and other drug use. Irvington Police Detective and Youth Officer Michael Toolan, who organized the project this year, is a board member of Irvington About Safe Kids, a coalition that represents parents, students, educators, law enforcement officials, medical professionals, businesspeople and others committed to helping youth make healthy, happy and responsible decisions.
Main Street School Fifth-Graders Dive into Hudson River Study
Main Street School fifth-graders became scientists for the day when they collected data about the Hudson River at various stations set up along the river at Matthiessen Park on September 18.
They observed the environment to determine the wind's direction; threw oranges in the water to determine the direction of the water current; tested the water's temperature and turbidity, and studied marine life. Local historian Bob Connick and former high school principal Scott Mosenthal took the students on a journey through the history of the river and region. The students will sail aboard the Hudson River Sloop, thanks to a grant from the Irvington Education Foundation.
"Students are motivated and excited to see up close the things we talked about in class, and that's really the most powerful type of learning you can do," Main Street School fifth-grade teacher Michelle Griffin said.
The goal is to teach students the importance of environmental responsibility and the value of understanding their surroundings. Main Street School Principal Joyce Chapnick thanks the many parent volunteers.
Sleepy Hollow/Tarrytowns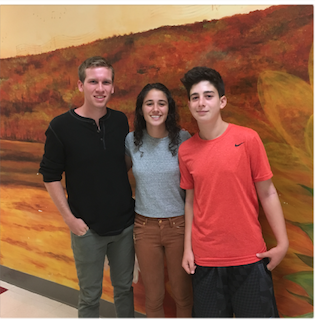 Sleepy Hollow Students Are All-State Bound
Sleepy Hollow High School senior Leah Scarpati on drums and Patrick Leavy, an alternate on bass, were selected to participate in the All-State Jazz Ensemble at this year's NYSSMA All-State Music Festival in Rochester. Freshman Ben Poret will be the first Sleepy Hollow student recognized as a featured composer in the NYSSMA Electronic Music Composition Showcase.
Sleepy Hollow High School Students Help Clear Creek High School in Houston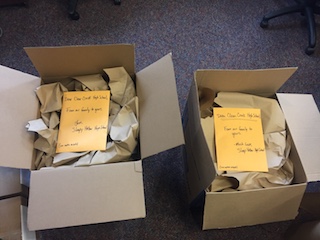 On September 15, Sleepy Hollow High School science teacher Leana Peltier announced that Sleepy Hollow's Students-Helping-Students initiative collected enough school supplies to ship two large boxes to Clear Creek High School in Houston following the devastation of Hurricane Harvey. Included in the boxes were hand-written notes signaling encouragement, and urging healing and strength to students at Clear Creek High School.
Briarcliff Manor
Thirty Briarcliff Manor Students Named to 2018 American Choral Directors Association (ACDA) Honor Choir
Thirty Briarcliff Manor students have been named to the 2018 American Choral Directors Association (ACDA) Honor Choir. ACDA is a nonprofit music education organization dedicated to inspiring excellence in choral music through education, performance, composition, and advocacy.
And… envelope please – The talented students are:
Fourth graders: Julia Baker, Jasmine Behr, Madeline Chu, Madeline Cohen, Leah Falah, Yael Falah, Lauren Jaffee, Georgina Janos, Hailey Merker, Sasha Plitt, Gisele Prechtl, Ariana Thomas, and Ava Wu.
Fifth graders: C. C. Anderson, Meena Chrzanowski, Abigail Chung, Caitlin Lee, Drew Packer, Matthew Seim, Eli Snider, and Mia Willey.
Sixth graders: Gordon Beckler, Allison Chu, Lily Hager, Jillian Mauro, Samantha Nemeroff, Yasmin Parandian, Tristan Rutman, Alexandra Shulman, and Lia Tepedino
Elementary School Principal Nadine McDermott said, "These are impressive results for Todd and the middle school. Briarcliff will once again be well represented at the Division Conference in Pittsburgh March 7-10."
Wilma Messenger leads practices after school at Todd Elementary.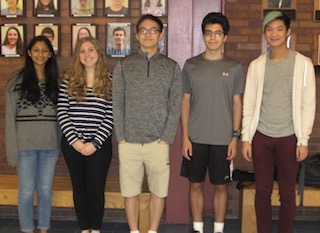 BHS National Merit Semifinalist and Commended Students
Several Briarcliff Manor high school seniors have been selected to compete for 7,500 National Merit Scholarships worth more than $32 million that will be offered next spring. The academically achieving students are: Madison Hennessy – National Merit semifinalist; Farhaanah Mohideen, Jane Tilles, Matthew Tu, Andrew Agriantonis, and Dustin Qian – National Merit commended students.
The nationwide pool of semifinalists represents less than one percent of U.S. high school seniors, including the highest-scoring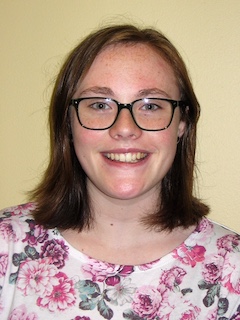 entrants in each state. The number of semifinalists in a state is proportional to the state's percentage of the national total of graduating seniors. Semifinalists and the high school must submit a detailed application with information about academic record, school and community activities, leadership abilities, employment, and honors and awards received.
From the approximately 16,000 semifinalists, about 15,000 (approximately 90 percent) are expected to advance to the finalist level of which about half will win a National Merit Scholarship and earn the Merit Scholar® title. Winners will be announced in March 2018.
BMHS English Teacher Julia Fernandez Named an Educator of Excellence
BMHS English Teacher Julia Fernandez was one of only 17 educators selected statewide to be named a New York State Educator of Excellence by the New York State English Council (NYSEC). Each year, the NYSEC recognizes excellence in teaching at its annual conference by granting awards to English Language Arts educators nominated by their schools and then selected by the Council.
Jamie Mandel, English department coordinator at BMHS, noted that Fernandez "demonstrates expertise and a wide breadth of knowledge. She has a keen mind that asks … the thought-provoking question that penetrates to the heart of the matter… The classroom atmosphere she creates, challenging yet supportive, culminates in well-read, thoughtful, and critically aware students."
Fernandez said, "Literature has always been an important aspect in my life, so becoming part of the English department at Briarcliff 16 years ago was a gift…  I am fortunate that I love what I do and that I am surrounded by supportive and passionate professionals."
The Misfits Author James Howe Speaks to Briarcliff Manor 7th Graders
James Howe's popular book, The Misfits, with its themes of friendship, bullying, fitting in and not fitting in, is always on the summer reading list for Briarcliff Manor students entering 7th grade. The main characters discover that once you have friends, you're not an outsider anymore. Howe repeated the visit he's made to Briarcliff Manor for several years in a row to speak with students and answer questions.