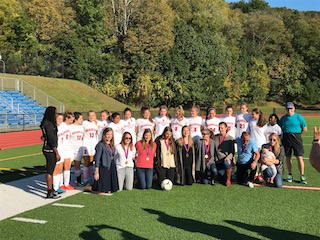 Westchester educators clearly are a savvy group. They grasp fully that true learning can never come from study and homework alone, but from first-hand experience. From trekking through a forest, collecting data or setting sail on the Hudson, writing to soldiers across the world, or playing – literally – with words, students in our schools discover lessons for themselves inside and outside classrooms. The teachers' hard work shows results in the growing numbers of students whose probing intellects and diligent work not only make us all proud, but carry the potential to make the world a better place for the future generations.
Briarcliff Manor
Briarcliff Welcomes Home 2007 State Champion Varsity Girls Soccer Team for 10th Anniversary Celebration
In 2007, the BHS Varsity Girls Soccer team was undefeated all season and went on to become State Champions. The winning team was honored last week before the Girls Varsity Home game against Croton-Harmon. As Superintendent Dr. James Kaishian said, "Great achievement, wonderful memories and extraordinary young women!" Go team!
Photo above: The 2007 Varsity Girls Soccer team returned for a 10th year reunion and celebration.
Sleepy Hollow/Tarrytowns
Box Out Bullying – Humor Helps Combat an Epidemic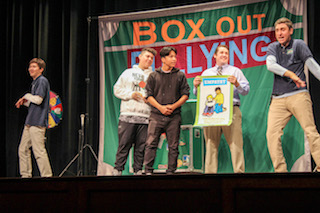 Box Out Bullying's creator Jeremy Rubenstein and fellow actor Leonard W. Rose visited Sleepy Hollow High School ninth and tenth graders at an assembly on October 18th as part of their nationwide tour to help students learn ways to end to the bullying epidemic.
The pair presented a series of interactive skits to involve students and teachers, including presenting all with a locked bullying box that could be opened only through learning about the signs of bullying and ways to stop it.
Rubenstein founded Box Out Bullying in 2008 because "There was a real need for it. At the time no one was really addressing it." According to the National Educational Association, approximately 160,000 students miss school due to bullying.
The duo uses humor to illustrate serious points.
"If we can get them to laugh, we get them to listen," Rubenstein said. The program also tackles cyberbullying, pointing out that mean posts on social media and in texts can cause as much damage as the spoken word or negative actions.
Sophomore Emma Briante enjoyed the presentation saying, "It was great. It was fun. It was informative."
Kudos to Sleepy Hollow Scholars for Earning Top Honors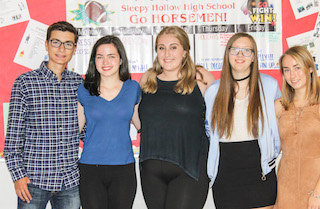 Congratulations to Sleepy Hollow High School Senior Maeve Brennan, named a National Merit Scholarship Semifinalist. Brennan is one of only 152 students in the Hudson Valley and 16,000 nationwide, to achieve the prestigious honor.
"I was completely surprised!" she said.
She can now compete for some 7,500 National Merit Scholarships worth more than $32 million that will be offered next spring. To be considered for a Merit Scholarship award, semifinalists must fulfill several requirements to advance to the finalist level.
Three other seniors, Samantha Allen, Olivia Rudder and Hallie Swanson, were named as Commended Students and recognized for their outstanding performance on the PSAT exams administered last year.
Senior Brandan Gianni has been invited to participate in the National Hispanic Recognition Program, scoring in the top 2.5% on the PSAT among all Hispanic and Latino high school junior test-takers in the region.
Scholarships are underwritten by NMSC with its own funds and by approximately 420 business organizations and higher education institutions that share NMSC's goals of honoring the nation's scholastic champions and encouraging the pursuit of academic excellence.
Word Play – Teamwork and Talking with Sixth Graders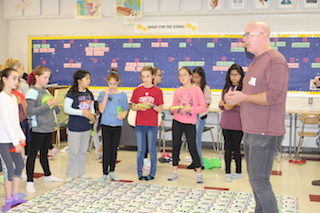 Sixth-graders at Sleepy Hollow Middle School kicked off their sneakers, got on the floor – and started spelling words. On October 18th, the classroom was filled with cheers as they played a game called "Giant Word Winder" with the game's designer, David L. Hoyt, who also created the nationally syndicated JUMBLE Classic games.
Hoyt, once a trader in Chicago, left his job to follow his dream of becoming an inventor.  The David L. Hoyt Educational Foundation aims to get "Giant Word Winder" and "Giant Math Winder" into every school and library around the world.
English teacher Kirk Dietz has been using JUMBLE games in his classroom for more than a decade to teach students about spelling, parts of speech and puns. He first reached out to Hoyt three years ago, resulting in a visit to the middle school when the designer donated several games and made a YouTube video with students explaining how the game works.
This year, Hoyt returned to film another video with a new group of students. The Word Winder game, explained Hoyt, "is about teamwork, talking and movement. The opposite of what video games are all about." Students work together on their teams to form words out of letters printed on floor-sized boards.
Hopeful that the power of words can change the world, Winder says, "I'm trying to create a group of people who can work together and make good decisions."
Irvington
Congrats! Six Seniors Honored as Commended Students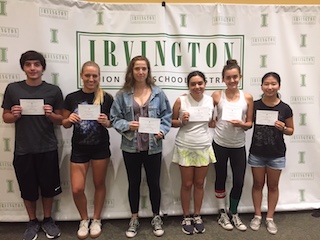 Six Irvington High School seniors were recognized by the National Merit Scholarship Corporation as Commended Students, an honor given annually to outstanding students who achieve exceptional scores on the Preliminary SAT/National Merit Scholarship Qualifying Test.
Kristen Lee, Susanna Odabashian, William Pascal, Dina Pekelis, Rachel Sklar and Hannah Stack, who received the National Letter of Commendation award, are among 34,000 students throughout the nation recognized for exceptional academic promise. They placed among the top scorers of more than 1.6 million students nationwide who took the qualifying test in 2016.
Congratulations to the six for demonstrating outstanding potential for academic success!
A Champion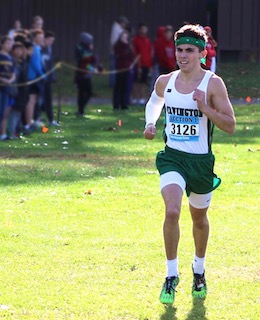 Irvington High Schoolsenior Luke Carmosino has captured his second title in three years by winningthe Class C Sectional Cross Country Championship race, which took place at Bowdoin Park on Nov. 4.
A Floating Classroom – Fifth-Graders Set Sail On the Hudson River Sloop Clearwater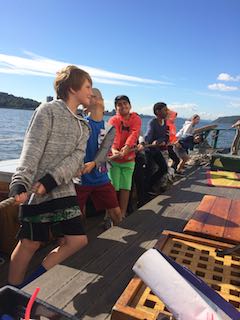 Main Street School fifth-graders recently experienced the natural resource firsthand when they set sail aboard the Hudson River Sloop Clearwater, thanks to a grant from the Irvington Education Foundation.
During their voyage on the floating classroom, the students raised the sails, navigated the boat, visited learning stations to examine river life, performed water quality tests, and studied plankton and other invertebrate life under field magnification.
"This is a uniquely powerful platform for students to learn about the Hudson River's natural wonders and cultural significance," Main Street School Principal Joyce Chapnick said. "The inquiry-based learning activities are hands-on and relevant, and connect to our future science unit on ecosystems."
Middle School Students Spend  "A Day in the Life of the Hudson River"
Irvington middle school students recently partnered with their older peers to study the Hudson River during theannual "A Day in the Life of the Hudson River" field trip to Matthiessen Park.
Sixth-graders from Amy Panitz's and Allison Meiseles' science classes collaborated with eighth-graders in Karen Bodnar's science classes and Irvington High School students from Joanna Morabito's marine biology and Advanced Placement environmental science classes to collect data on the environment, examining the water chemistry and physical setting, as well as fish species found in the river. The older students took on the role of data collectors and leaders in the environmental science field.
"By collecting data, the students gained a greater understanding of the complex interdependent ecosystems that help the Hudson River remain a unique estuary system," science teacher AmyPanitz said. "They were able to see trends taking place in parts of the river, analyze their new findings and draw conclusions about the health of the Hudson River."
The collaboration made the day a great success.
Soccer Superstar and Scholar – Zoe Maxwell Scores 100th Career Goal, Named Con Ed Scholar-Athlete of the week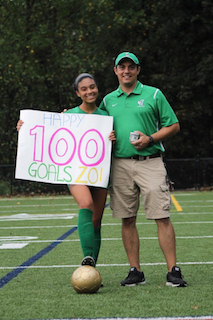 Irvington High School senior Zoe Maxwell scored her 100th career goal milestone in a game against Dobbs Ferry High School on Oct. 11th. At 108 goals, Zoe is the first student-athlete among the boys and girls soccer teams at Irvington High School to reach the milestone in recent history. Maxwell's goal was the first in a game followed by four additional goals for a final 6-1 victory.
Coach Patrick DiBenedetto praised the achievement as "unbelievably difficult to achieve," and noted that it helps "sum up the amazing qualities that she brings to the table as a student-athlete, including hard work, dedication, persistence, athleticism and consistency." Calling her "a role model for our soccer program," DiBenedetto applauded Maxwell's "dedication to the sport, love of the game and commitment to her team" which makes her "the complete athlete that she is today."
She reached the goal the day she was named Con Edison's Westchester Scholar Athlete of the Week by a panel of athletic directors and coaches. She has received All-League and League MVP honors, as well as All-Section, All-State Class B Player of the Year, and All-American honors.
Maxwell takes Advanced Placement and honors-level classes, is a member of the Latin Club and a class representative, and was selected as a senior peer leader from a pool of 80 applicants. An outstanding member of the track and field team who holds numerous titles and honors, she also referees for Westchester Youth Soccer League and volunteers to provide holiday gifts for children in need. She will attend Brown University next fall.
Ossining
Skyler Jones' Semiconductor Research Places Her in Siemens Competition Finals
Ossining High School senior Skyler Jones' science research project is one of 60 in the nation chosen as a regional finalist in the 2017 Siemens Competition in Math, Science & Technology.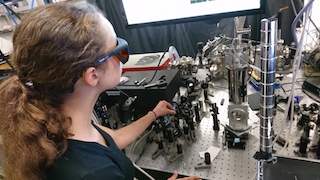 Jones' research on perovskite crystals as semiconductors in solar cells was one of 30 individual projects selected; the other 30 were submitted by teams. A total of 101 students were selected as regional finalists.
The Siemens Foundation received more than 1,860 applications this year.  There were 491 semifinalists. Regional finalists advance to the regionals next month and have a shot at winning the top prize of $100,000.
Jones, 17, said her research combines her interest in chemistry, physics and alternative energy. She has been studying perovskite crystals as semiconductors in solar cells, parts of the solar panels that convert sunlight into electricity. They are more efficient and less expensive than silicon solar cells, the industry standard, and don't have to be as pure.
"If we can figure out why perovskites are so efficient despite their low purity, we can manufacture semiconductors that are just as efficient as today's standards but much cheaper," she said.
For the regional finals, she will present her work and answer questions from a panel of judges during an online session at Carnegie Mellon University in Pennsylvania held in mid-November. The national finals are in December.
9/11: Serve + Remember – Middle School Students Pen Messages to Deployed Soldiers Across the Globe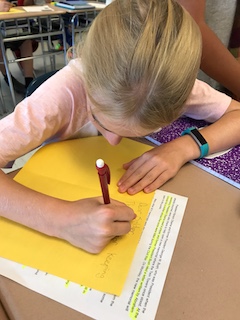 In letters and cards to U.S. soldiers stationed around the world, Anne M. Dorner Middle School students thanked them for risking their lives, keeping Americans safe, being courageous, and sacrificing time with their families to serve their country.
Nearly 450 AMD students participated in "9/11: Serve + Remember," an event organized by Volunteer New York to thank troops for their service and reflect on the sacrifices they have made for the country. The students were among more than 1,800 people across Westchester, Rockland and Putnam counties who were part of this year's volunteer activities.
The 444 letters and cards from the students will be added to larger care packages that United for the Troops in Mahopac will gather to send to soldiers for the holidays. The drive for food, toiletries, sundries and other items starts the Friday after Thanksgiving.
Sixth-grader Adam Beno wants his letter to give strength and courage that soldiers need "to continue on their fighting journey" and to express his respect for the soldiers and hopes that they'll stay safe.
"They left their loved ones behind so they can serve our country, and it's kind of heartbreaking how they might even die in the battle," he said.
Remembering One of Ossining's Own on 34th Anniversary of Beirut Bombing
Lance Cpl. Craig Wyche, who graduated Ossining High School in 1982, was one of 241 members of the U.S. military who lost their lives in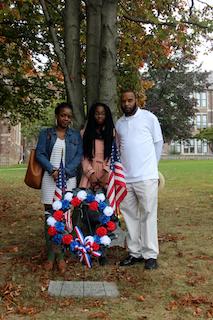 Shayla Wyche, Craig Wyche's cousin; niece Kijafa Alston; and brother Glenn Wyche stand by the tree and memorial plaque at Ossining High School the  1983 terrorist attack at Beirut International Airport.
On Oct. 23, the 34th anniversary of the bombing, members of Wyche's family, veterans, and OHS students gathered on the front lawn to commemorate the fallen marine and his ultimate sacrifice.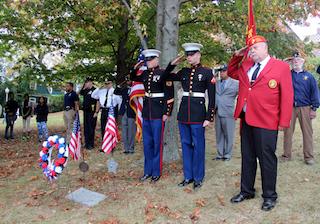 Glenn Wyche, Craig Wyche's brother, traveled from Valley Stream, Nassau County, to attend the ceremony. Glenn's daughter, Kijafa Alston, and cousin Shayla Wyche were also at the event.
Veterans and members of the military salute during the ceremony for Craig Wyche at Ossining High School.One of six siblings, Craig Wyche was a bright and gifted athlete who could have done anything he wanted in life, said Glenn. He noted, too, that "As soon as we forget something like this, these things come back to haunt us in other ways. We should always remember those who fought for this country and gave their lives…"
Members of the Marine Corps League — Westchester County Detachment; American Legion Post 506; and Veterans of Foreign Wars Post 1041 participated in the memorial service, laying a wreath in front of a plaque in the ground and a maple tree planted in Wyche's honor years ago. Patrick Wheeler, an OHS social studies teacher and a graduate, played Taps.