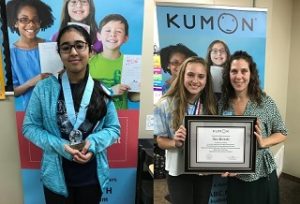 Local resident, Riya Raina was recently awarded the "J by 6" achievement award at the Kumon of Tarrytown center in recognition for studying advanced algebra before the end of sixth grade. Riya, a sixth grader, is currently studying factorization, irrational numbers, quadratic equations, simultaneous equations, theorems, and proofs. "Riya is a role model for the other students at the center," says her Instructor, Lillian Brijeski. "She faces the challenge of new concepts with confidence and enthusiasm."
In reading, Ana Brijeski, a ninth grader, recently completed the Kumon Reading Program. Ana has learned a more sophisticated understanding of passage structure, improved critical reading ability and understanding a writer's intentions by writing comments on aspects of passages.
The goal of the Kumon Math & Reading Program is to make the study of high school math and reading easy. Kumon strives to cultivate confident students like Riya and Ana who can independently study material that is three years or more beyond their school grade level.
Research has shown that a student is much more likely to attend and complete a four-year college program after completing course work equivalent to algebra II. Research also shows that students studying above grade level in reading are more likely to graduate from high school and go on to attend and graduate from college.
Kumon is an after-school math and reading enrichment program that unlocks the potential of children, so they can achieve more on their own. As a comprehensive program, Kumon serves children in preschool through high school. Founded in Japan in 1958, the learning method uses an individualized approach that helps children develop a solid command of math and reading skills. Through daily practice and mastery of materials, students increase confidence, improve concentration, and develop better study skills. Kumon has over four million students enrolled in nearly 25,000 learning centers in 50 countries and regions.