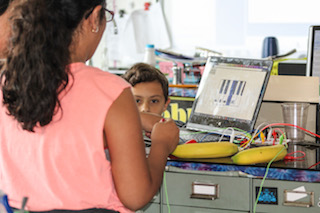 Tarrytown/Sleepy Hollow
High School Students Work with Washington Irving Students on Makey Makey Projects
Fifth-grade students at Washington Irving Intermediate School and AP Chemistry students from Sleepy Hollow High School combined forces last week to learn more about the "maker movement" and try some hands-on computer electronics games.
A handful of SHHS chemistry teacher Jason Choi's students presented their Makey Makey projects to the younger students, encouraging them to participate in the STEAM initiative. Each group of older students brought along fun projects that had one thing in common – they all were created using a 21st century invention kit called Makey Makey.
One group of SHHS students set up an elaborate three-dimensional Super Mario game, which was connected to a computer by using Makey Makey. On a classroom whiteboard, students could play Super Mario simply by touching either side of a cardboard Super Mario contraption to move left or right, or by stomping on a book (connected to a computer by circuits) to make Mario jump.
They also created a Powerpoint presentation to help the younger students understand how a Makey Makey works. And to pay it forward, Mr. Choi gave the WI fifth-grade teaching team their own Makey Makey kits so that the younger students can now create their own projects. "At the end of the school year," said Mr. Choi, "the SHHS students will return to see the new projects in action."
Sleepy Hollow Middle School Students bring Home Four Medals from Festival
The Sleepy Hollow Middle School Music Department faculty and students were delighted to participate in an adjudicated performance for Fantastic Festivals today in Connecticut, and brought home four gold medals! Congratulations! The combined chorus sang "Here Comes the Sun" and "Every Time I Feel the Spirit," the 6th grade band performed "Viking" and "Chester Variations," the 7th and 8th grade band played "Rainforest Rhapsody" and "Kronos," and the full Orchestra performed "Conquistador" followed by the 7th and 8th grade orchestra's rendition of "Fantasia On A Theme From Thailand."
Festival adjudicators provided feedback designed to further the students' growth as musicians. The adjudicators praised our students and provided helpful information. Each piece was discussed with various instrument sections as the adjudicators provided specific instruction to enhance each child's future performances.
After all that hard work, everyone headed off to Lake Compounce amusement park for a great day in the sunshine. Congratulations to the SHMS music department's faculty and students for all their hard work this year, and for a successful performance Friday at the festival!
Ossining
Ossining Science Research Students Excel at International Science and Engineering Fair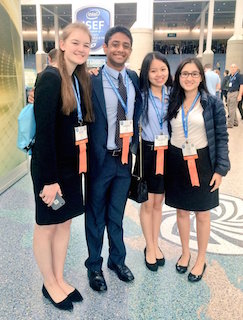 Four Ossining High School students who qualified for an all-expense paid trip to the International Science and Engineering Fair each won special awards at the competition this month.
The Science Research Program students were among about 1,800 finalists from 75 countries who competed for some of the most prestigious awards a young scientist can receive. ISEF, which is sponsored by the Society for Science & the Public, is the largest international pre-college science competition.
Sarah Hoffman received a $60,000 scholarship to the University of the Sciences in Philadelphia, should she choose to attend, for her project in the category of biomedical and health sciences.
Chinmai Deo received a third-place award in the cellular and molecular biology category from the American Physiological Society. His research on ear cells isolated fast adaptation, utilizing pentachloropseudilin to inhibit slow adaptation.
Also in the cellular and molecular biology category, the team of Lior Raz-Farley and Michelle Zhang received an honorable mention from the American Statistical Association.
Ossining School District Receives "Champions for Children" Award
The Ossining School District recently received a 2017 "Champions for Children" award from the Child Care Council of Westchester.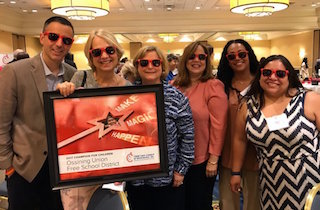 The District was one of three organizations and individuals honored at the 15th annual awards ceremony. Every year since 2003, the Child Care Council has presented the awards to individuals and organizations that show an "unwavering commitment to bright futures for children by creating or funding life-changing programs and initiatives."
"Young children do not choose where they are born and grow up. If they could, they would surely pick Ossining, where the District invests in children's well-being and learning from the beginning," the council said. "We congratulate the Ossining Union Free School District for caring so deeply about its children and for deepening the capacity of the entire community to do the very best on their behalf."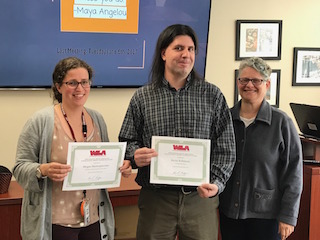 Westchester Library Association Gives Partnership Award to Ossining Library and School District
The Ossining Public Library is pleased to announce that the library and the Ossining Union Free School District have been awarded the 2017 School/Public Library Cooperation Award by the Westchester Library Association.
The Westchester Library Association announces the winners at its annual meeting each May. The award recognizes excellence, creativity and effectiveness in a school/library cooperative program.
Irvington
Main Street School Fifth-graders Bring History Alive with a Mock Trial of the Conquistadors
Main Street School fifth-graders, who had been studying about the European exploration and its effects in Latin America,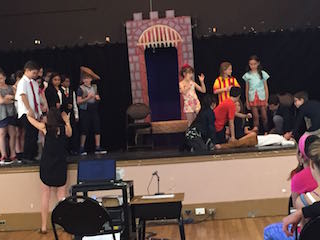 participated in a theater residency program to bring history to life. As part of the program, they acted out the effects of the conquest of the Aztecs and Incas by the Spanish Conquistadors and put the conquistadors on trial for their unlawful destruction of both civilizations.
"The theater residency program provided students with a hands-on way to explore the ancient civilizations and the conquistadors," Principal Joyce Chapnick said. "They were able to dive deeply into the unit of study and they worked as a team in pods to create a viable script with the information they researched. It also provided them with the unique understanding of the perspectives of both the ancient civilizations and the conquistadors."
Dows Lane Elementary School Third-graders Discuss Real-world Application of Robotics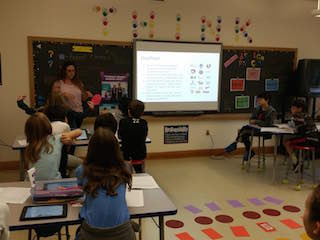 Third-grade students at Dows Lane Elementary School – who had been learning code writing to operate a robotic dog in their Project Lead the Way classes – welcomed a special visitor to their school on May 31.
Jessica Lachs – head of Business Operations and Analytics at Doordash, a company that delivers food from restaurants to people's doorstep with the help of a robot – met with students in Michele Barnattan's and Diane Kiernan's classes.
"We hope that this real-world application of robotics and food delivery gave students a great perspective on how what they learn in PLTW – where they're using code writing and robotics – has meaning," said technology teacher Gwenn Carney, who heads the Project Lead the Way curriculum.
NYS Commissioner of Education visits Irvington Union Free School District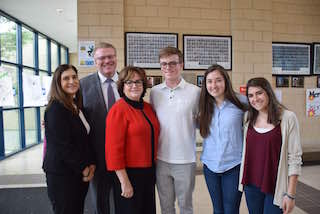 On June 5th, Irvington Union Free School District welcomed New York State Commissioner of Education Mary Ellen Elia.
Superintendent, Dr. Harrison, was among the list of people Elia met with, stating, "We were honored to welcome Commissioner Elia to our amazing District. During her visit, she truly had the opportunity to experience what a special place our District and community is by visiting classrooms and meeting many of our talented staff and students."
Commissioner Elia walked the hallways of the middle school and high school, visited several classrooms and greeted teachers. She observed an end-of-the-year review in Eli Byers' sixth-grade math class where the students reviewed algebraic expressions, proportional reasoning and numeration. She also visited Jacquelyn Grant's Advanced Placement Language and Composition class and Nadia Parikka's ninth-grade Honors Biology class, whose lesson focused on the adolescent brain as part of a unit of the nervous system.
"It was a great opportunity for me to visit Irvington," Commissioner Elia said. "The middle and high school campus is beautiful and besides that, the programming that I saw was just wonderful."
Briarcliff Manor
Briarcliff HS Red Cross Club fights Against Global Disease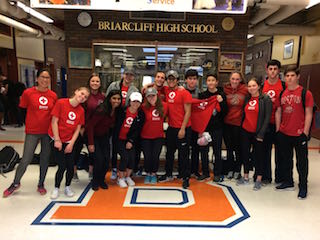 Members of Briarcliff High School's American Red Cross Club took advantage of their technology and social media knowledge to fundraise for a good cause.
"With a website called CrowdRise, these studentswere able to quickly and efficiently raise money to help the Red Cross mission of vaccinating villages in Africa against measles and rubella," said club advisor Karen McCarthy.
This year's efforts build upon fundraising that the club started last year using similar tactics including a schoolwide "Wear Red Day" to raise awareness within the Briarcliff community about the initiative.So far this year, the ARC Club has raised more than $2,000, which equates to vaccinations for upwards of four villages.
Briarcliff HS Filmmakers Earn Recognition
Two films from Briarcliff High School's Introduction to Film class have earned Honorable Mention recognition at the 2017 Hendrick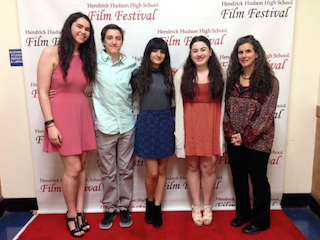 Hudson Film Festival. The films are "Baking Bad" by Sarah Kaul, Jessica Garlasco, Ben Harris and featuring Tucker Poux, Brian Danuff and Mikayla Kibel and "Your Call is Important to Us," starring Jack McGranaghan and Henry Ross and edited by Olivia Banc.
"Baking Bad" explores a school bereft of cookies and bake sales, while "Your Call is Important to Us" is a humorous portrayal of what is really happening behind those technology help calls.
Briarcliff's Future Scientists Show off Research at Symposium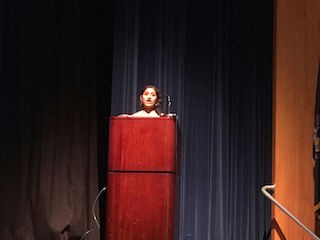 Briarcliff High School students enrolled in the three-year science research program had an opportunity to share their work at the annual Research Symposium.
The hallways of the school were lined with posters, allowing guests to view students' research and discuss their progress before gathering in the auditorium.
There, students, parents and guests were welcomed by Principal Debora French, who then introduced keynote speaker Dr. Kaya Weiss, a postdoctoral research fellow in the Jacobs Lab at the Albert Einstein College of Medicine. Dr. Weiss' work focuses on the methods bacteria and viruses use to circumvent detection and elimination by the immune system.
Afterward, attendees heard presentations from four seniors – Jackie Contento, Kaveri Gowda, Joey Raphael and Lin Xie. The evening also included remarks from the science research faculty and the announcement of awards for the senior program members, who received recognition in regional, state and international competitions.