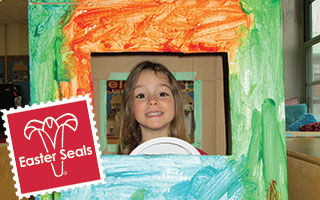 Most people remember Easter Seals as an organization that has been around for almost 100 years serving individuals with disabilities. But not everyone knows that Easter Seals serves thousands of young children in settings where children with special needs and their typically-developing peers participate in the same preschool classroom.
Easter Seals Child Development Centers, with nearly 80 centers nationally, is one of the nation's largest providers of inclusive preschool programs.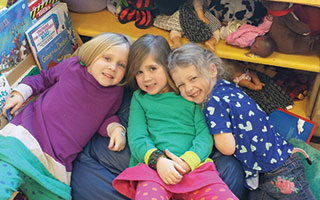 In fact, right here in Irvington's Dows Lane Elementary School, Easter Seals administers an integrated preschool program called Project Imagine.  Many parents whose children have been referred to Project Imagine were unaware of the innovative program before enrollment. Parents of general education students have praised Easter Seals for giving their children an educational setting that encompasses children of all abilities.
Project Imagine in Irvington typically provides a classroom of 16 children. Half of the class, eight children, have Individual Education Plans (IEP's). The remaining half of the class, eight children, is comprised of their typically-developing peers, a ratio classified as an integrated classroom setting. Three- and four-year-olds are also taught in one mixed-age classroom.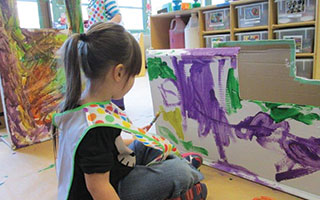 The class is taught using a Co-Teach model, involving two NYS certified teachers. The class is led by Marissa Cartozian who holds a Master's Degree in Special Education (Literacy) and has taught in this classroom setting for 10 years. Marissa's early childhood background, experience and training allow her to provide an optimal learning environment for all children in her classroom. The General Education Teacher, Samantha Reynolds, just started  her third year at Project Imagine and has  recently completed a Master's Degree in Childhood Special Education. They are joined by Assistant Teacher, Lisa Toolan, who has many years of experience working with young children. Having three adults in an integrated classroom keeps the child-to-adult ratio low, approximately 5 children to one adult, which allows for children to receive individual attention.
At Project Imagine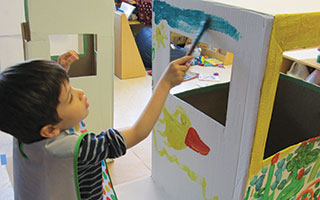 The program provides a safe, nurturing environment where the children can explore, create and participate in fun, hands-on learning activities. The schedule provides a consistent, structured school day, with an academic focus to help students prepare for entry into kindergarten.
Project Imagine utilizes The Creative Curriculum™ which is divided into six units of study that are aligned with the NYS Pre-K Common Core Learning Standards. Children learn the letters and sounds of the alphabet, to count and to quantify objects, to identify shapes, colors and much more.  Each day there are opportunities for singing, reciting, story-time read alouds, practice in fine and gross motor skills, educational toys and games, puzzle play and arts and craft activities.
Learning Centers allow children to self-select areas of interest:
The science center explores nature and our world.
The block building center utilizes props  and transportation vehicles to create roadways and bridges.
The sensory play space engages all the children's senses so they can express their creativity with a variety of soft and hard sensory materials.
The library is filled with early childhood books and books the children have written themselves or dictated to the teacher and then illustrated on their own.
The dramatic play center encourages children to experiment with different roles and responsibilities in imaginary/pretend play scenarios.
Program Information
• The morning session runs from 8:30am-11:00am and the afternoon session from 12:30pm-3:00pm.
For children with IEP's, the County provides bus transportation to and from Dows Lane Elementary School. Parents may also drive their child to and from school. General education students are driven to and from Dows Lane Elementary School by their parents.
Tuition is paid by referring school districts for children with IEP's, while typically-developing children's parents pay moderate preschool tuition rates. Special Education services help young children with special needs achieve their goals in cognitive, social/emotional, communicative, adaptive and physical development. Project Imagine services may include occupational therapy and/or speech therapy.
Speech and occupational therapy support services and resources are available to children on-site and are integrated into a child's regular day in a separate classroom.  A parent may request from their home school district that a support service be provided in their own home.
Easter Seals Project Imagine
Project Imagine features a safe and caring environment, state-of-the-art tools and curriculum, individualized learning plans, highly qualified teachers, low child-adult ratios, low staff turnover, and active parent-center partnerships. Easter Seals classrooms are designed to provide young children with the optimal environment for successful learning and development. Innovations and new technologies are available to help young children with and without disabilities become more independent and autonomous.
The Easter Seals Child Development Centers respond to the needs and concerns of parents with children of all abilities. An integrated environment may be just the right setting for a child who would benefit from the experience of all abilities learning and playing together.
So, if you are looking for a fun place for your child to learn and grow, imagine the possibilities at Easter Seals Project Imagine, a satellite half-day integrated preschool program.  All children are individually valued and appreciated, and celebrated for their uniqueness. The classroom staff identifies what makes each child special, creating an environment where children can flourish.  While what children should learn and in what order is essential for their future educational success, what the children need to learn first is to love learning. And that's just what we do at Project Imagine.
Project Imagine fosters a school environment that promotes love of learning, where all children can feel successful and become willing to take risks that enable them to learn even more. As a result, the students gain many different
academic skills as well as social-emotional skills such as sharing, expressing feelings, developing empathy and working together to solve a problem. These skills are mastered as students participate in fun and structured activities
designed and coordinated by their teachers. Easter Seals Project Imagine truly is "a fun place to learn and grow."
Tours of the facilities and a classroom visit can be arranged by contacting the Acting Director,  Terri R. Hall D. Ed. at Project Explore in Valhalla (914) 328-1578 or by email trothschildhall@eastersealsny.org.