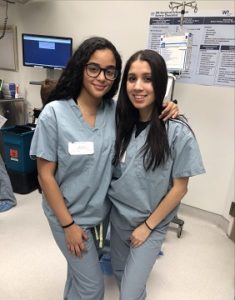 Two Sleepy Hollow High School students have been accepted to participate in a highly competitive and coveted medical assistant program. Seniors, Melissa Diaz and Kayla Jimenez, will partake in the Clinical Tutorial Program at White Plains Hospital. For two hours each week for ten weeks, the students will shadow a professional and observe the professional health provider interact with patients.
The students will also be exposed to surgical and medical specialties through a series of seminars and clinical experiences. Ms. Diaz and Ms. Jimenez will gain an understanding of the anatomy and physiology of various organ systems, as well as pathology of common diseases. They will also be exposed to advance diagnostic and treatment techniques.
Both students plan to major in a health related field when they attend college next year and aspire to be nurses in the future.