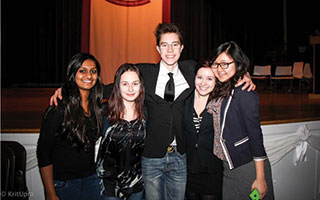 As the month of February wore down, a group of five students from EF International Academy began gearing up for one of the most competitive academic case challenges in the world. On Feb. 28th, the team from EF International Academy, New York, traveled to London, England, to compete in the high school division for the prestigious Hult Prize. The annual competition is the world's largest crowd-sourcing case challenge, featuring thousands of students competing from over 100 countries. Open to universities, colleges, and students on every continent, the case study involves a real global social challenge in partnership with a leading Non-Governmental Organization (NGO) in the corresponding sector. Teams of four or five students develop an original case study as a solution to the issue. The winning program will receive a seed capital grant of $1 million dollars donated by the Hult Family. The grant will be used to pilot the winning programs in areas of need around the world. The case challenge is designed to help the brightest business students focus on developing ideas that can be feasibly implemented to solve global crises.
At right, The Hult Prize semi-finalists from EF International Academy, New York (in order): Shambavi Jayaramaiah (India), Sabina Lenskaya (Russia), Magnus Thune (Norway), Anja Trenkwalder (Austria) and Jeen Chun (South Korea). Photo by: Krit Upra
EF International Academy has been chosen as the only high school representative to participate in this year's Hult Prize.
The current topic, "The Global Water Crisis," was directly chosen by former United States President Bill Clinton in cooperation with fellow Clinton Global Initiative Member, Water.org. Water.org seeks to identify additional trends that are orthogonal to the water and sanitation space – economic, technological, social, cultural, political, or other – to even further increase the efficient and effective provision of water and sanitation services to the roughly 780 million people affected by the global water crisis.
The team from New York competed against their EF International Academy peers from the Oxford and Torquay campuses, both of which are located in Great Britain. Each of the three teams presented their solutions to a panel of senior judges from academia and the NGO sector at the Hult International Business School campus in London on March 1. The New York team was comprised of a team of junior and senior students: Magnus Thune, Shambavi Jayaramaiah, Sabina Lenskaya, Anja Trenkwalder and Jeen Chun.
The recommendation from the winning team from EF International Academy, Oxford consisted of an energy efficient method of purifying water by using simple barrels, hoses and a purifying chemical. The cost of this method averages between $10 and $15 USD per purification unit and can filter from 800 – 2400 liters of water per day. "I am amazed and inspired by the solutions presented by the winning team from EF International Academy," says Ahmad Ashkar, Founder and CEO of Hult Prize. "This competition proves that our global challenges won't only be solved by seasoned experts, but by passionate young people working together to improve our world."
Despite the fact that the Oxford Team will be attending the annual meeting of the Clinton Global Initiative this September, senior Shambavi Jayaramaiah says that the experience was still an enlightening one. "It was a great opportunity to experience the challenges of solving a real-world crisis," she said. "It isn't easy, but it is worth it. We need to keep trying, the future is in our hands."
EF International Academy is a private international boarding school for high school students. Located in Tarrytown, New York, the school is home to over 500 students from 60 different countries around the world. Set on the former campus of Marymount College in Westchester County, New York, EF International Academy is recognized as an IB World School. Specializing in the International Baccalaureate Diploma, in addition to a New York State diploma, EF provides students with an opportunity to experience a boarding school college preparatory education within 40 minutes of New York City. EF International Academy aims to prepare students not only for future educational success, but as global citizens through knowledge and intercultural understanding.
For more information, please contact the Admissions Office at (914) 597-7241 or visit us at www.ef.com/academy.