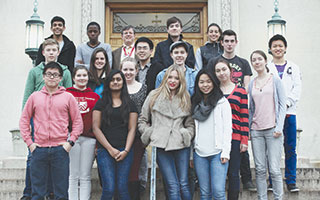 The students at EF International Academy have been selected to participate in The Hult Prize, formerly Hult Global Case Challenge. Established three years ago between Hult International Business School and Clinton Global Initiative, the program is an international case study that invites students from around the world to solve the world's most pressing social challenges.
The annual competition is the world's largest crowd-sourcing case challenge, featuring thousands of students competing from over 100 countries. Open to universities, colleges, and students on every continent, the case study involves a real global social challenge in partnership with a leading NGO (Non-Governmental Organization) in the corresponding sector. Teams of four or five students develop an original case study as a solution to the issue. The winning program will receive a seed capital grant of $1 million dollars donated by the Hult Family. The grant will be used to pilot the winning programs in areas of need around the world. The case challenge is designed to help the brightest business students focus on developing ideas to solve global crises that can be feasibly implemented. Past university participants in the Hult Global Case Challenge include Harvard University, Stanford University and Columbia University.
In the Oct. 1, 2012 edition of Time, former president of the United States Bill Clinton, the force behind the Clinton Global Initiative, discussed the Hult Global Case Challenge as one of the reasons for optimism for the future of an increasingly communitarian world.
"We are thrilled that EF International Academy was selected as the high school representative to this case challenge. It will be a once-in-a-lifetime opportunity for our students to not only critically approach a humanitarian crisis, but potentially see their hard work enacted on a global scale," says President of EF International Academy Mark Seman. "We think this is a tremendous chance for our students to draw on their academic knowledge and diverse experiences to reshape the world in which they live."
EF International Academy has been chosen as the only high school representative to participate in this year's Hult Prize. The 2012 topic, "The Global Water Crisis," was directly chosen by President Clinton in cooperation with fellow Clinton Global Initiative Member, Water.org. Water.org seeks to identify additional trends that are orthogonal to the water and sanitation space – economic, technological, social, cultural, political, or other – to even further increase the efficient and effective provision of water and sanitation services to the Bottom of the Pyramid, reaching at least 100 million people in 5 years. Teams must consider several key elements, including: (1) Is it philanthropically efficient;( 2) Accessibility, Availability, and Drinkability of the water provided under the plan; (3) Feasibility of the approach, to ensure that valuable resources are used to maximize efforts and provide water to the largest base possible.
The Hult Global Case Challenge involves a series of competitive rounds, and each school will be represented by teams in the Finalist Round in February 2013. These selected groups will move on to the London Regional Final for final presentations. Judges will be independently selected from non-profit organizations, the private sector and private sector companies. The winning team will be announced at the Clinton Global Initiative's annual meeting in New York City in September 2013.
The teams selected from the EF International Academy New York campus are: Yulia Shamayskaya, Stella Hartman, Cheng-hsiang Hsiao, Anna Ivanova, Addison Nix, Shambavi Jayaramaiah, Magnus Thune, Sabina Lenskaya, Anje Trenkwalder, Jeen Chun, Rui Jiang Ong, I Gede Raka Gemilang, Ana Lucia Albo Alarcon, Stephanie Arnold, Abhimanyu Gupta, Jelena Bozic, Geraldine Paola Hernandez Alcazar, Maxime Mballa Tagny, Carina Uchida, Owen Chen, Daniel Dahm, Jose Luis Pueyo Poves and Paul Störbrock.
[blockquote class=blue]EF International Academy is a private international high school that is a division of EF, Education First, the largest and oldest private educational company in the world. With three campuses, located in Oxford, England, Torquay, England, and Tarrytown, New York, it is a truly a global educational experience, representing students from over 60 countries around the world. The school is home to over 520 students from 60 different countries around the world. Set on the former campus of Marymount College in Westchester County, New York, EF International Academy is recognized as an IB World School. Specializing in the International Baccalaureate Diploma in addition to a New York State diploma to graduating seniors, EF provides students with an opportunity to experience a boarding school college preparatory education within 40 minutes of New York City. With over 90% diversity, EF International Academy aims to prepare students not only for future educational success, but as global citizens through knowledge and intercultural understanding. For more information about EF International Academy, please contact the Admissions Office at (914) 597-7241.[/blockquote]