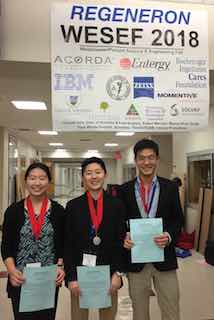 Creativity is king this month as our schools tap into the innovative instincts of our students in many ways and on multiple levels: an author shares insights on illustrations with the very young; teams find new, unexpected and fun ways to meet (and greet) challenges; music and dance reign supreme…
…garnering recognition and bravos; high schoolers find ways to help the environment; a deeper understanding and acceptance of our differences moves a group of youngsters; circus skills delight and teach; elementary schoolers learn how math and science can yield real results in a rescue mission; and a group of brilliant high school students are honored for their visionary ideas in science and engineering. The future looks bright glimpsed through the lens of our students and educators.
Irvington
Irvington High School Seniors Earn Silver Medals at Westchester Science and Engineering Fair
Photo: L-R: Irvington High School seniors Kristin Lee, Claire Song and Jimmy Park earned silver medals at the Westchester Science and Engineering Fair.
Three members of the Irvington High School Science Research program – seniors Kristin Lee, Jimmy Park and Claire Song – earned silver medals at the Westchester Science and Engineering Fair, held at Sleepy Hollow High School on March 17. The competition featured more than 560 projects from 44 high schools from Putnam and Westchester counties.
Lee earned second place in the medicine and health category for her "Pediatric Vision Screening in U.S. Schools" project, which determines the vision screening requirements for schools in all 50 states in relation to national goals.
Park earned second place in the behavioral and social sciences category for his "Voluntourism: The Efficacy of Volunteers in Shaping Mongolian Student Learning" project, which assesses the current conditions of voluntourism and its influence on student learning in Mongolia.
Song won second place in the cellular and molecular biology category for her "Regulation of Immunoglobulin E Secretion During Allergic Inflammation" project, which seeks to understand the secretion of IgE, which is an antibody known to mediate allergic reactions.
Other presenters at the competition included seniors Nicole Chase, Deepthi Kailas and William Pascal, and juniors Julia Caldropoli, Jacob Dunefsky, Chrysmine Wong and Jerry Wu.
"It is truly a wonderful opportunity to work with such an amazing group of young scientists," said Geri Winterroth, who co-advises the program with Nadia Parikka. "I continue to be impressed with their knowledge and professionalism. Their future is bright and so is ours because of them."
Seniors from the Science Research program will present their work at the Irvington High School Science Symposium to be held on May 23 in the campus theater.
"Peter Pan" to take flight at Irvington Middle School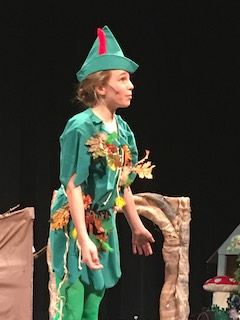 Irvington Middle School presented the classic production of Peter Pan as the spring show on April 20-21. Having worked diligently on the performance for months, the dedicated group of performers entertained audiences with their voices, dance moves and flight.
"Peter Pan is a classic production about a young boy who never wants to grow up and the friends he makes along his adventure," said teacher Luann Ricciardi, the show's director. "The songs will keep you singing long after the performance is over. Not only is our tech crew talented, our actors are wonderful."
Cast members were: Sixth-grader Niki DiNardo as Peter Pan; seventh-grader Luciana Forte as Tiger Lily; seventh-graders Morgan Balkin, Olivia Barron, Ian Brooks and Adam Raymond as Captain Hook, Wendy, Smee and Michael Darling, respectively; eighth-grader Wyatt Triestman as John Darling; seventh-grader Leo McLaughlin as Mr. Darling and seventh-grader Emily Kropp as Mrs. Darling.
"A full cast of Pirates, Lost Boys, Brave Girls, a dog and even a sneaky crocodile round out the cast to make for a spectacular show," Ricciardi said.
She credited fellow teacher Teresa Hunt, an assistant director for the past four years and in charge of costumes and props; Felicia Hudson, who assisted with choreography, hair and makeup; and technical director Thomas Richardson, for being instrumental in the production's success.
Irvington's Dows Lane Elementary School Third-Graders "Rescue A Tiger"
Third-graders at Dows Lane Elementary School recently put their math and science knowledge to the test to "rescue a tiger" stuck in a moat. While the tiger wasn't real, the students applied their skills to a hands-on engineering project as a culminating activity to the Forces and Interactions unit.
"This teaches [students] how to collaborate, think critically and solve problems, in addition to using mathematics and the ideas of science and simple machines," said teacher Gwenn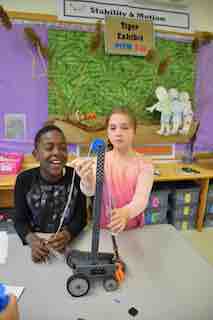 Carney, who teaches the unit as part of the rigorous and innovative Project Lead the Way curriculum.
Using VEX IQ snap-together construction kits, magnets and a string, the students were challenged to build simple and compound machines and create a harness that could safely lift and transport the tiger. They had sketched and labeled their ideas, discussed possible solutions with their classmates and finalized their design.
"We made a crane to lift the tiger out of the moat," third-grader Oonagh Brandon said. "My favorite part was getting to build, come up with ideas and tests to see if they work."
The rigorous and innovative Project Lead the Way curriculum allows students to apply their critical thinking skills and acquired math and science knowledge to real-life, hands-on engineering and technology projects.
Tarrytown
Clowning Around in Tarrytown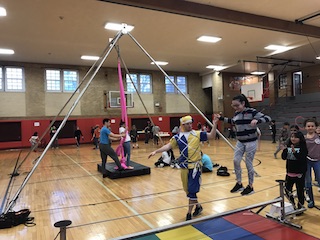 Tarrytown Washington Irving (WI) students found out just how much fun – and hard work – it is to become a circus performer when Westchester Circus Arts returned to the school, for the fifth time, the week of April 16th, to teach such circus arts as stilts, silks, diabolo, rola-bola, and spinning plates. The skills increased the students' confidence while improving hand-eye coordination, concentration, manipulation, and fine motor skills. Circus Arts instructor Mickey Lonsdale said, "Tightrope walking strengthens children's ankles and make them agile. It prepares them for different sports."
Beauty and The Beast Comes to Sleepy Hollow
The Sleepy Hollow Drama Club delighted audiences during their recent performances of Beauty and The Beast. For the weekend of April 12th-14th, stage crew members transformed the auditorium into a castle, and actors and actresses donned elaborate costumes, transporting all who watched to another time. Based on a French fairy tale, Beauty and the Beast tells the story of a prince who is transformed into a beast while his staff members become household objects. The Beast must love and be loved in return for all to become human again.
Senior Mary DelVecchio played Belle who is imprisoned in the Beast's castle and also transformed. "Belle is such an empowering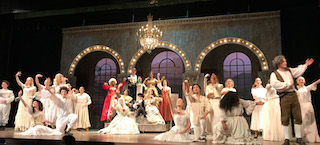 female Disney character and I wanted to tell her story," said DelVecchio, who won a Metro Award for Outstanding Vocal Performance in last year's SH production of Pippin.
"What really made me want to audition for this show is how family-like the cast is and everybody is friendly," said sophomore Ginger Sakarya who portrayed Mrs. Potts.
The production offered many opportunities both on stage and behind the scenes with approximately 50 students in the cast, a dozen in the stage crew and about eight student musicians in the orchestra pit, led by Conductor Brittney Trenczer.
Director Julie Colangelo-Doré said presenting this play is a dream come true. "It is an incredible community.
Theater makes the students feel welcome and accepted. They are unstoppable." Senior Payge Chebetar, the assistant director and stage manager, hopes to turn her passion for theater into a career one day. "I like being able to help everyone pull the show together," said Chebetar.
Tarrytown Students Are Inspired with Wonder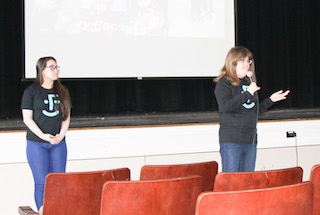 Tarrytown's Washington Irving (WI) students discovered the wonders of what makes everyone different during a recent Town Hall-style assembly where third, fourth and fifth-graders met representatives from the non-profit organization myFace.org on April 9th. The organization provides medical and financial support for thousands of children with facial disfigurements. The best-selling book "Wonder" and film by the same name have brought the issue to the forefront.
Dina Zuckerberg, director of family programs at myFace, shared her story and the challenges she has overcome living with a craniofacial condition. Her message to the students is simple but profound. "Think about how to choose kindness in your school and community," said Zuckerberg. "Turn from being bystanders to upstanders, someone who does what is right when they see something wrong."
The school embraced the theme of kindness and empathy this year after reading "We're All Wonders," a book in the "Wonder" series by R.J. Palacio. During the assembly, students asked Zuckerberg questions and watched a video where children recounted the social and physical obstacles they face living with facial disfigurements. The students were moved. "It doesn't matter what you look like on the outside, it is what you have in the heart," said fifth-grader Lucy Black.
"We're All Wonders" is dedicated to Dina Zuckerberg. Special thanks to WI teacher Christine Moore who attended college with Zuckerberg and facilitated the myFace.org visit.
Briarcliff Manor
Author/Illustrator Jason Chin Tells Briarcliff Elementary Students:  "Practice Makes Progress!"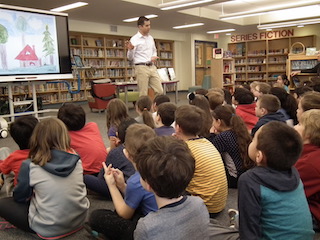 "How did you get so good at illustrating?" — one Todd School student asked award-winning author/illustrator Jason Chin when he visited kindergarteners, first and second graders in Briarcliff Manor. "Practice makes progress," replied Chin.
He shared how he extensively researches each of his nonfiction books, interviewing experts and visiting coral reefs, the Grand Canyon, and redwood forests. While scuba diving, Chin once came close enough to a sea lion to have the animal blow bubbles in his face. He told the students that he verifies facts with at least two sources.
Chin shared drawing tips, such as using darker lines for up-close parts, softer lines to show distance. For his Caldecott Honor award-winning book Grand Canyon, he first wrote the words and then created a storyboard.
The program was made possible through the generous support of the Briarcliff Manor PTA.
Briarcliff Manor Todd Elementary Principal Nadine McDermott to Retire
Todd Elementary School Principal Nadine McDermott has announced her retirement effective June 30, 2018 following 14 years in Briarcliff Manor schools.
Since joining the Briarcliff team in 2004, McDermott served in three administrative roles: middle school assistant principal,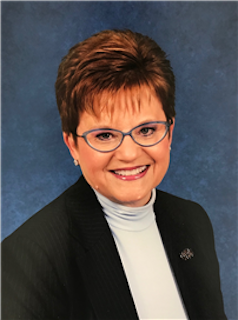 district director of performing arts and the principal of Todd Elementary School. As district director of performing arts from 2006-2008, she made significant improvements including staffing, curriculum and facilities. While at BMS, McDermott's work with Habits of Mind resulted in her and two colleagues being selected by Drs. Costa and Kallick, authors of Habits of Mind, to present at the Association for Supervision and Curriculum Development (ASCD) International Conference in 2009.
McDermott enabled the school to achieve International Habits of Mind School of Excellence Certification, New York State Department of Education Rewards School for highest achievement in the State every year from 2012 through 2018, and transformed Todd School through the implementation of Reading Street, Primary Mathematics, Makerspace and Habits of Mind. She was instrumental in both BMS (2016) and Todd (2005) receiving the National Blue Ribbon Award for Exemplary Performance in 2005 and 2016 respectively.
McDermott said, "My time in Briarcliff for the last 14 years has been a blessing, leaving me with fond memories to cherish. At this moment, I have had the privilege of influencing the lives of every Briarcliff student currently enrolled in the District."
Briarcliff Middle School Teams Create a Crazy Contraption for Rube Goldberg Contest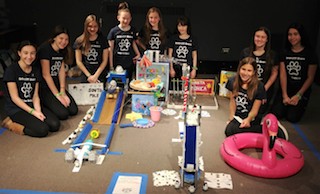 Three Briarcliff Manor Middle School Science & Engineering Teams participated in the Rube Goldberg Contest at the Engineering Expo at White Plains High School on April 15.  Two of the three teams placed, and the eighth grade girls placed first, then went on to compete at the National Rube Goldberg Machine Contest Finals in Chicago on April 21 and 22 where they placed fifth overall.
Rube Goldberg, Inc. is a not-for-profit dedicated to promoting STEM (Science Technology, Engineering & Math) and STEAM (Science Technology Engineering, the Arts and Mathematics) education for students of all ages. The goal is to encourage critical thinking and problem solving in a non-traditional learning environment and have fun in the process.
This year's contest was to pour a bowl of cereal in 10 or more steps with a Rube Goldberg machine – a "crazy contraption which accomplishes a simple task in the most complicated – and funniest – way possible!" based on the cartoons of the famous Pulitzer Prize-winning American cartoonist, Rube Goldberg. Goldberg's granddaughter was present at the event.
Jodi Shearer, BMS eighth grade science teacher, a club advisor for the last six years, said, "I try to find competitions where my students can work collaboratively in groups . . . and I allow [them] to choose which competition they'd prefer."
The club brainstorms at meetings and on their own outside of school.
High School Band Welcomes Guest Conductor Curt Ebersole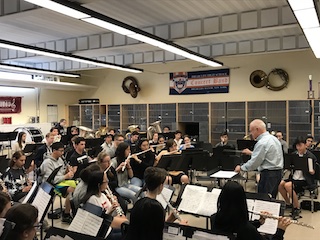 Seventy musicians in the Briarcliff High School band studied under Curt Ebersole, a highly respected conductor, bandmaster and award-winning music educator, on April 13th in the first of two workshops designed to deepen students' understanding of the repertoire for the spring concert on April 24 and the NYSSMA majors festival performance on May 23.
Ebersole explored the connections between Ralph Vaughan Williams' effusive and energetic March from the English Folk Song Suite and Samuel Hazo's highly introspective treatment of the same musical theme in From Heaven to the Future.  The work was dedicated to Debbie Durham, a high school music educator.
BHS band director and principal euphonium in the Westchester Symphonic Winds, Marc Tartell, invited Ebersole to Briarcliff. Tartell said, "Many of our students have attended concerts of the Westchester Symphonic Winds and watched Ebersole conduct, making this an especially exciting workshop!"
Ossining
Ossining Fifth-Graders Bring Love of Dance to New Afterschool Program
Several dozen Ossining fifth graders in Roosevelt School are taking their love of dance from their living rooms to the stage as part of a new afterschool program sponsored by the New Professional Theatre.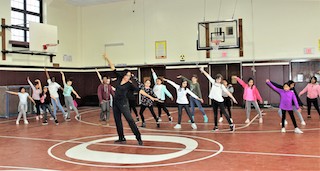 The free weekly jazz dance program started last fall and will culminate in a performance at the Ossining Public Library on May 24 and in the school talent show June 21.
"I signed up because I love to dance," student Kelly Cabrera said during a water break at a session in early April. "I always dance at my house. I love to get new moves."
The New Professional Theatre is running programs in Ossining, Greenburgh, Peekskill and Bedford Hills, thanks to funding from the Thompson Family Foundation. Sheila Kay Davis, founder and artistic director of the New York City-based theater, said her goal is to expose children in Westchester to the benefits of dance, including posture, confidence, collaboration and concentration.
Mamie Duncan-Gibbs, a veteran of eight Broadway shows, advised the fifth-graders to "pay attention to the little things because that's what your audience is going to see.
Habits that you develop in class . . . show up on stage."
Christopher Moracho, one of a handful of boys in the class, said music and dance go together. "Every time I hear music, I join in and dance," he said.
Lucky 8! Ossining Receives National Recognition for Music Programs for Eight Years Straight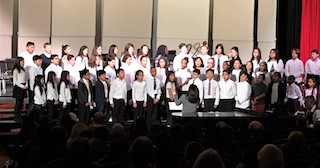 For the eighth consecutive year, the NAMM (National Association of Music Merchants) Foundation has selected Ossining as one of the best school districts in the country for music education, recognizing its commitment to the arts and music as part of a well-rounded education.
The NAMM Foundation recognized 583 districts and 135 schools across the country for their music programs; it is supported in part by roughly 10,300 worldwide members.
"This is the eighth year in a row the foundation has designated Ossining as a Best Community for Music Education, and it is a great honor each year to receive this national recognition," said Bradley Morrison, the District's director of cultural arts.
A Dozen Ossining High School Juniors Are Finalists in GENIUS Olympiad 2018
Twelve Ossining High School juniors are among the 729 students who are finalists in the 2018 GENIUS Olympiad, an international competition encouraging students to contribute to the protection and improvement of the environment.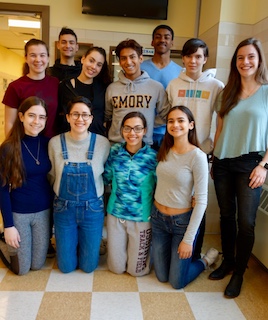 The students are Kellen Cooks; Maggie Ford; Nina Foster; Romina Gamarra; Emma Montgomery; Elliot Ocheltree; Julia Piccirillo-Stosser; Sabrina Piccirillo-Stosser; Dylan Spedalieri; Ann Stein; Kiara Taveras; and Keven Victoria. They will travel to the State University of New York at Oswego for the week-long competition June 11-16.
The Olympiad, which was founded and organized by the nonprofit Terra Science and Education, received 1,657 applicant projects from students in 70 countries.
"What makes me really excited about the competition is that they're all juniors," said Angelo Piccirillo, who co-teaches the Science Research Program with Valerie Holmes.