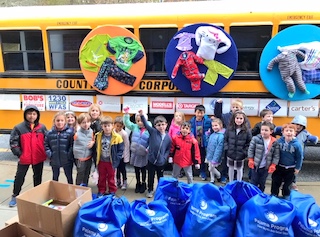 If you ever thought November and December were quiet times at Westchester's schools, think again! Our campuses are well aware of the urgent need to gift tomorrow's leaders not just with holiday goodies, but with the tools they'll need to better understand and manage our increasingly complex world, one that demands strong and broad-based skills, global understanding, and ample doses of empathy and compassion.
From work with clay inspired by ancient civilizations to hands-on explorations into sound, topography, and real-life economics; from collection drives to gather all from bedtime books and apparel for at-risk kids to staples of life for hurricane victims; from celebrations of the written word to recognition and remembrance for our nation's veterans; from honors awarded to students who display all from athletic and academic mastery to sterling personality traits – our schools are going full throttle. Add to the mix a quartet of stellar Fall play productions, and one cannot help but feel proud of our educators and students.
Briarcliff Manor
Stuff-a-Bus at Todd
Photo: Todd first graders in Lea Campani's class.
Students at Todd participated in Pajama Program's 10th annual Stuff-a-Bus campaign where schools and organizations collect new pajamas and books, then stuff the inside of a school bus with the items gathered. Pajama Program is a national initiative that donates PJs and texts to at-risk, often abandoned, abused and neglected children and teens living in group homes and shelters, so they can experience bedtime comforts. Principal Nadine McDermott explained, "We believe that teaching empathy is a lifeline to the heart and soul of our school."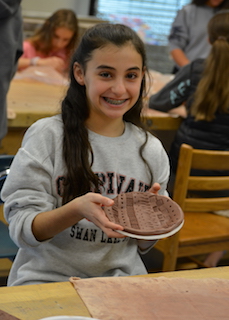 BMS and BHS Celebrate Global Day of Clay
In November, BMS and BHS students participated in Global Day of Clay, a collaboration between NCECA (National Council for Education in the Ceramic Arts) and the ceramics department at 92Y in NYC which uses technology to link individuals, arts organizations, universities and galleries around the world.
Art teacher at BMS and BHS Jessica Dubin explained, "Global Day of Clay …create[s] interest around ceramics and pull[s] people from within the field and outside … into a deeper state of consciousness about all things related to clay."
Sixth graders learned about the historic significance of clay as a method of communication by creating clay cartouches incised with their names written in Egyptian hieroglyphics.
Seventh graders examined images of ancient ceramic vessels from each of the world's continents, impressed fired clay and wood "stamps" to create texture and pattern, then cut the slabs and draped them into simple molds.
High school students worked in groups to shape clay animals.
Animal Farm – BHS Presents Political Satire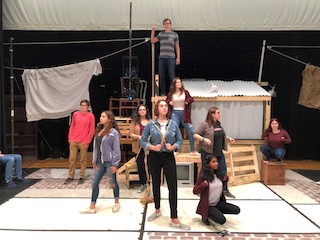 In November, Briarcliff Manor High School's production of George Orwell's political satire, Animal Farm, adapted by Nelson Bond, showed what happens when animals take the reins and a few pigs get power hungry. The show was directed by Ian Driver and Maria Guida.
Tarrytown
Tarrytown Hosts Annual International Banquet
Students, teachers, parents and administrators enjoyed dishes from around the world donated by members of the Honor Society as well as families, the school community and local restaurateurs at the Foreign Language Society's annual International Banquet.
Elena Pousada, honor society advisor and banquet coordinator said, "When we sit down and break bread together, the more we understand each other."
Money raised from the International Banquet and raffles will be used to fund college scholarships for graduating seniors who have shown excellence in their studies.
Eliza Sandler, co-president of the International Honor Society, said, "In today's world it is so important to talk and to learn about different cultures and values." ENL/World Language Department Chairperson Rosa Estevez stressed the significance of having "kids … explore new things."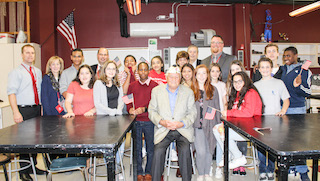 420 Flags Fly in Tarrytown
Armando "Chick" Galella, a 96-year old Pearl Harbor survivor and war hero from Sleepy Hollow, and his family offered 420 American Flags to the Public Schools of The Tarrytowns, funded by a $350 donation from The Rotary Club of the Tarrytowns. Students and members of Andrea Harrison's Art Club installed the flags in early November in honor of Veterans Day on the middle/high school front lawn creating a flag formation reminiscent of Arlington National Cemetery and other military memorial grounds.
Galella said, "I wanted to teach them about patriotism."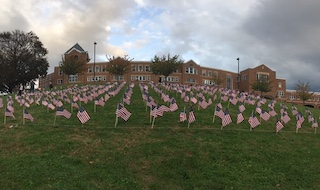 Tarrytown Fall Production: The Curious Savage
Sleepy Hollow High School students took the stage in November to

perform The Curious Savage, the story of Ethyl Savage, a widow who inherited millions from her late husband's estate only to have her stepchildren commit her to an asylum to stop her from spending the fortune.
Senior Camille Marchini portrayed octogenarian Ethyl Savage. Eliza Mastropieri, a sophomore who played one of the stepchildren said, "The theater program …is a great outlet for people to express themselves."
Director Peter Kennedy chose the play partly because "Everyone has a starring role. There are key moments when everyone has the opportunity to shine."
Meet Tarrytown's Facilities Director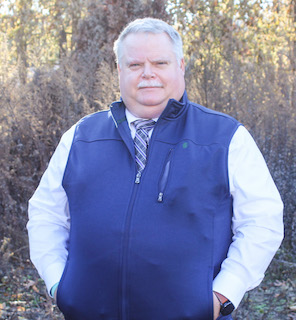 When Anthony DeMan walks through a building, he observes every detail, and if something is wrong he wants to make it right.
"I love the idea of fixing things," said DeMan who became facilities director for the TUFSD in December.
He holds a Bachelor of electrical engineering degree from SUNY Maritime and became a commissioned officer in the US Navy Reserve.  He served in Operation Desert Storm and earned the rank of US Navy Commander before retiring after 22 years of service. For the past 32 years, DeMan has worked at the Fieldhome, a not-for-profit rehabilitation and nursing home in Cortlandt Manor, where he most recently was director of support services.
One of his goals in Tarrytown is to complete the construction of the new garage on the high school campus before the first snowfall. He will also keep an eye on all systems and monitor the progress of a ventilation system upgrade in the music wing at the high school.
Irvington
Irvington High School — The Core Value Awards for Humor and Joy Go To…
Nineteen Irvington H.S. students who have exemplified certain 21st-century habits of mind received Core Value awards for the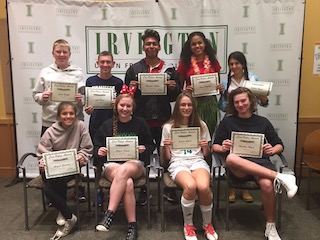 humor and joy they bring to the community.
Principal David Cohen and Assistant Principal Matthew Samuelson celebrated the award winners, and Samuelson noted, "It's crucial that we are able to find a few moments in each of our days to laugh, smile at one another and continue to foster the positive environment that is so fertile for the leaps and bounds we look to make each and every day."
Each month, teachers consider a different character trait and select students who exemplify that quality.
Congratulations to Core Value honorees for Humor and Joy: Josiah Acheampong, Brandon Avelino, Madison Beasley, Josh Blass, Birk Buchen, Kayleen Burgos, Elliott Dwyer, Jacob Egloff, Ryan Flanagan, Abigail Gonzalez, Jessica Green, Chloe Harcsar, Xavier James, Matthew Myers, Sophia Regal, Sophia Rushton, Skylar Sloan, Brant Steinberg and Grace Thybulle. Also, special congratulations to the following students who received the Core Value awards for Empathy: Toshio Barber, Eli Cott, Benjamin Flock, Jordan Gaddy, Julia Herceg, Will Herte, Emily Horowitz, Julian John, Kayla Mizrachi, Jaleel Moody, Haley Passov, Devin Reilly, Karina Ulrich, Michelle Vargas, Jordan Wels and Antonia Zandel.
Go Olivia!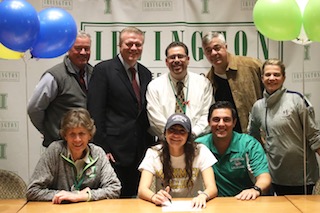 Irvington High School senior Olivia Valdes announced her commitment to play lacrosse at Merrimack College next fall during a ceremonial Letter of Intent signing on Nov. 8.
"Congratulations to Olivia, her parents Dalia and Aresky, as well as her lacrosse coach Pat DiBenedetto," Athletic Director Artie McCormack said.
Joined by administrators, coaches and her parents, Valdes – a three-sport athlete – was recognized for her outstanding contributions to the school community. In addition to lacrosse, Valdes is an accomplished soccer and basketball player at the high school.
"It is great when we get to see our athletes have the ability to go on and play in college," McCormack said. "This is what high school sports should be all about, having fun competing in as many sports as possible and still excelling in one which allows her to play at the next level."
Valdes has received All-League and Honorable Mention All-Section honors, and was named Rivertown's Player of the Year. She was the leading scorer during her last season, and scored 126 goals and had 65 assists going into her senior season.
Almost, Maine – Romance is the Theme for Irvington's Fall Production
Irvington High School presented the romantic comedy Almost, Maine, written by actor and playwright John Cariani, in November. Directed by Stephen DiGiovanni, the production featured a talented cast of students and crew.
"I wanted the student performers to have the opportunity to really dive into the characters they're playing, and Almost, Maine allows that," said DiGiovanni.
Zounds It's Sounds! at Dows Lane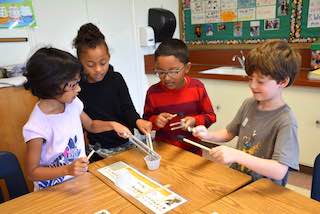 Dows Lane Elementary School second-graders welcomed scientist Christopher Green for the science enrichment program on Sounds. Students felt the vibrations in their throat as they hummed, learned how sound travels through solid objects by placing their heads on their desks and feeling the vibrations a tuning fork makes, and by looping a rubber band around a wooden box and pulling on it with a popsicle stick.
"With science, the students need hands-on experiences," teacher Kari Carlson said. "They need to see it, hear it, read it and do it."
Green also visited first-graders to explore Facts of Matter. The programs are made possible by a grant from the Irvington Education Foundation.
Fifth-graders Build Robotic Testbeds in Irvington
Using the VEX IQ snap-together robotics system in their Project Lead the Way classes, Irvington Main Street School fifth-graders constructed robotic testbeds to further understand programming and machine control.
"These testbed models established the foundations of robot control," said technology teacher Gwenn Carney, who heads the PLTW curriculum. PLTW is the nation's leading provider of rigorous and innovative science, technology, engineering and mathematics curricula.
Dows Lane "School Store" Teaches Economics
Rows of toys, games and books decorated the desks of second-graders at Dows Lane Elementary School in November as the young shoppers gained real-life experiences about money and economics – without spending real money.
The school store is a monthly curriculum-related activity that teaches addition and subtraction, as well as cash exchanges and sales.
Teacher Alyssa Fisher said that students learn many lessons including "supply and demand and how to price items, change prices and modify things."
Read On! Irvington Seventh-graders
Seventh-grade students in Kelly Kozak's and Allicia Rios' English Language Arts classes decorated cardboard boxes for a "ceREADal Box Project: Sharing Our Reading Lives" learning experience.
The Irvington middle school students included personal photographs, drawings, graphics and bookmarks to share information about their reading visions, favorite places to read, as well as their "fave" authors, genres or book titles.
"They presented it in very creative ways – as unique as each individual reader," said Kozak.
Irvington Eighth-graders Explore Volcanoes
Irvington eighth-graders exploring topography in Karen Bodnar's Earth science classes participated in inquiry-based, hands-on activities using a plastic model of a volcanic landscape set in an aquarium. They added water and measured the elevation of various points on the model and generated a contour map.
"It was a perfect hands-on discovery of our unit on topography," said Bodnar.
Irvington Students Help Hurricane Victims
Irvington Main Street School students collected, then packed and sent items ranging from diapers and baby food to soap and batteries for the victims of hurricanes Irma and Maria, which devastated communities in Puerto Rico and the Caribbean islands. The relief efforts were led by 36 fourth-graders and 15 fifth-graders.
"As a school community, we are being global citizens," Principal Joyce Chapnick said.
Ossining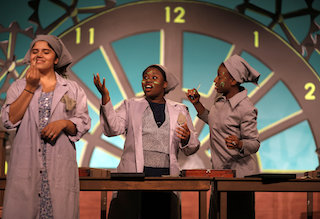 OHS Drama Club Presents Radium Girls
Close to 75 Ossining High School students, including 19 actors, mounted a highly successful production of Radium Girls in early November.
The play, written by D.W. Gregory, was inspired by a true story of watch dial painter, Grace Fryer, who worked in a U.S. Radium Corp. factory during World War I and, along with thousands of other young women, was poisoned by painting dials with radium.
Theater director Jessica Beattie, thrilled with the results, said, "The students were incredibly compassionate and empathetic in their character work."
Marcela Levin Is Ossining Employee of the Year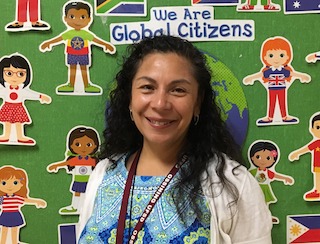 Marcela Levin, parent coordinator in the Ossining School District, received an Employee of the Year award from the Ossining Rotary Club at its annual Scholarship Fundraiser in early November. Levin, who has conducted community outreach on behalf of Ossining schools for 11 years, is the Park School parent coordinator and serves as facilitator of the parent group Proyecto A.L.C.A.N.C.E. (Assistance, Language, Career, Advocacy, Nutrition, Child-Rearing, Education)
Superintendent Raymond Sanchez, who nominated Levin, said she "goes above and beyond every day" in her work with Hispanic families in the District.
"It's not only me helping the community, but at the same time I grow with them and they help me to become aware of the needs in the community," said Levin.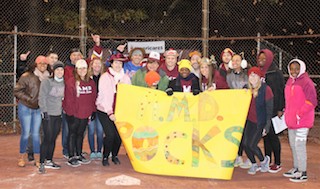 Ossining Raises Money for Victims of Natural Disasters
The Ossining community recently united in support of people struck by natural disasters around the world. Teachers, administrators, staff and the entire Ossining School District community competed in the inaugural Crazy Hat Kickball Tournament at Veteran's Memorial Field. Playing kickball and wearing wacky hats, including those shaped like a taco or doughnut, they raised $1,971 for Americares in Stamford.
All six Ossining schools and the District office fielded teams in the tournament. Anne M. Dorner Middle School's team is the champion for the 2017-18 school year.
The PTA, the Ossining Recreation Department, the Ossining Police Department and Mike Risko Music School supported the effort.
Ossining Invites a Veteran to School
On the Thursday before Veterans Day, nine veterans shared photographs, military memorabilia, stories and even chocolate bars as part of Ossining High School's eighth annual Invite a Veteran to School Day.
Students learned what it was like serving on an aircraft carrier, as a tank gunner, in the Army Signal Corps and more.
"It's nice to see the young people interested," said Louis Dorio, who served in the U.S. Navy from 1966-69 and is a former Harrison police chief.
Ed Cook of Ossining was separated from his family in Lithuania during World War II. Sent to an orphanage and later adopted by an American family, he never forgot the kindness of an American soldier who gave him a K-ration Hershey chocolate bar when he was four. Cook later joined the U.S. Army and served in Germany in the build-up to the Vietnam War.
OHS senior Elvis Becerra, moved by the stories, said, "I learned that not only are these vets hard workers but …they were always dedicated from the start."