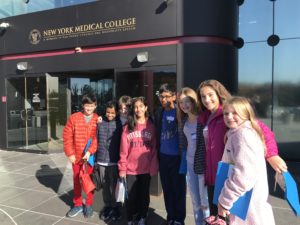 On November 8, Briarcliff Middle School Principal Susan Howard accompanied a small group of 7th graders to an annual leadership conference held at New York Medical College in Hawthorne and hosted by the the Human Rights and Holocaust Center of White Plains.  Joining other students from across the area, middle schoolers heard a presentation by Sheila Arnold, storyteller and historical character interpreter from History's Alive, a Montclair New Jersey-based school assembly production house that brings historic figures to local schools. Arnold portrayed a former slave searching for her son and described how slaves had been dehumanized.  She shared a message about the value of education and the need for compassion.
Each school could bring only eight students, selected for their active participation in Student Government as 6th graders and teacher recommendations.  Briarcliff Manor students were:  Charley Goldstein, Gautham Gupta, Lina Moini, Adrianna Scanga, Gordon Beckler, Caroline Collins, Ethan Goriah, and Sammy Plitt.
All left energized and hoping to make a difference among their peers.