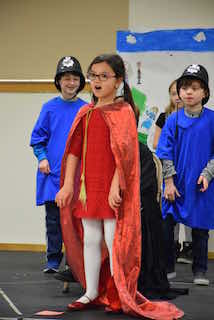 With the coming of warm air and clearer skies, our Rivertowns are looking picturesque. April boasts better weather, holidays and time off from school. But springtime means our students are still working hard. Seniors are getting ready to be college bound, middle-schoolers are studying art and our elementary students are learning about literature and writing about what they love.
Irvington
Literature Come to Life at Dows Lane
Second graders at Dows Lane Elementary school wrote their own versions of traditional fairytales and performed them in front of their peers, teachers and parents. The students have been learning classic folklore in class.
"There is no better tool than theater to help teach young people confidence and creativity," says Peter Royston. Royston, a theater educator who worked with the students for 12 weeks through the "Bringing Literature to Life" enrichment program, which was funded through a grant from the Irvington Education Foundation. "The second-grade teachers at Dows Lane work so hard to inspire their students and get them ready to perform. It is such a nurturing atmosphere; the students can't help but succeed."
"Each second grade class performed the plays for their families on March 31," Principal Deborah Mariniello said. "With standing ovations and cheers, all students and teachers should feel very proud of their work bringing literature to life."
Irvington Middle Schooler, 3rd in National Geographic Bee
Congratulations are in order for Irvington Middle School sixth-grader Andrew Zhou.  Zhou placed 3rd in the National Geographic Bee, a statewide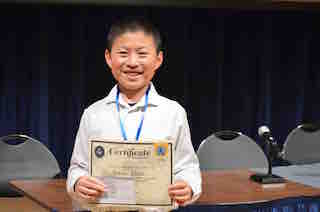 competition. The competition was held at the New York State Museum in Albany.
"Andrew was well-prepared for this challenging competition," Assistant Principal Allyson Daley said.
"The IMS community is incredibly proud of him for all of his accomplishments."
Irvington High School Student, a Finalist in MIT INSPIRE Competition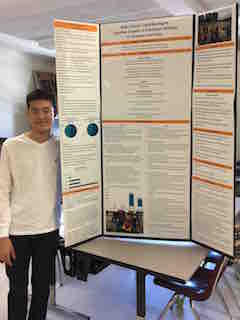 Jimmy Park, a junior at Irvington High School, has been chosen as a finalist in the preliminary round of the MIT INSPIRE Competition – a national high school research competition in the arts, humanities and social sciences. Park is the school's first applicant to MIT INSPIRE. "Jimmy's self-motivation and dedication to his research is admirable and we are very proud of him," says Nadia Parikka, co-advisor for the Science Research program. Park's research is titled "Main Factors Contributing to Cognitive Growth in Preschool Children in Tanzania and India."¬
Briarcliff
Briarcliff Middle School Students Draw Self Portraits, Learn About Hispanic Artists
Eighth grade students in Briarcliff got the opportunity to study three well-known Hispanic artists and their particular style of art. The students,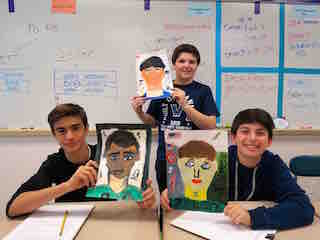 who studied Salvador Dali, Frida Khalo and Pablo Picasso, worked in groups to learn about the artist's lives.  This, as part of an interdisciplinary Spanish/Art unit, was followed by students drawing a self-portrait, beginning with a focus on proportion and facial features, and a gallery walk to view the work.
Prolific Author Visits Briarcliff's Todd Elementary School
Author, Gordon Korman visited Briarcliff 4th and 5th graders and encouraged them to write about what they love.  Korman, author of over 90 books for children and teenagers, has been writing since he was very young.  Korman wrote his first novel as a seventh-grade student, This Can't Be Happening at MacDonald Hall.  "You never know where the next idea is going to come from," he said. "You're a better writer when you write about what you love."
Korman's next book, Restart, will hit bookshelves in May. He gave Todd students a sneak preview telling students the story involves a bully who falls off his roof and gets total amnesia.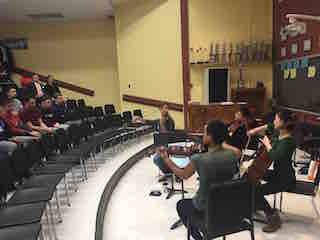 Briarcliff Orchestra Students Treated with Workshop from Well-Known Quartet
Orchestra students at Briarcliff High School got quite the treat. Members attended a special workshop with the Argus Quartet. The quartet, which is currently in residency at the Caramoor Center for Music and the Arts, has some awe-inspiring performances under their belt at venues such as Carnegie Hall, Laguna Beach Live!, the Hear Now Music Festival and the Birdfoot Festival. The quartet also provided a master class for the students, thanks to a grant provided by Briarcliff Friends of the Arts.
Ossining
Accomplished Student Headed to Harvard University
Congratulations to High School Senior, Alec DeCaprio who will be taking his scholastic and athletic talent to Harvard. DeCaprio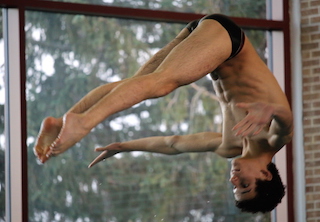 has collected awards in swimming and diving. During his high school career, he was a two-time Section 1 champion, four-time conference champion, four-time All-Section Honor winner and four-time All-League Honor winner.  While he swims for Harvard University next year, he'll be majoring in economics with a possible minor in English literature or music composition.
Ossining's Engineering Club Builds 80-Pound Robot for Competition
Ossining High School Engineering Club estimates the time they've spent on the team's entry for this year's FIRST Robotics Competition to be in the hundreds.  The O-bots, also known as Team 4122, spent a grueling six weeks brainstorming, conceptualizing and building their robot for the FIRST STEAMWORKS challenge. The end result, an 80-pound robot. This is the first year there is a regional competition in the Hudson Valley. Forty-seven teams from the tri-state area, as well as Brazil, the Dominican Republic, Ecuador, India, Turkey and the United Kingdom, are participating. Team 4122 members said they are grateful to their sponsors, which include Siemens Healthcare Diagnostics, IBM, Entergy and Otocast, along with the School District.
Ossining Students Learn about Leadership, Legislative Process at Hispanic Youth Conference
Ossining High School students participated in four intense, full-day leadership institutes in advance of the conference at the State capitol. More than 200 students from around the State participated in the Albany event, where they took part in a mock Assembly session, represented the Democratic and Republican party caucuses, and met with Assembly Speaker Carl Heastie, as well as several senators and Assembly members. The purpose of the Angelo Del Toro Puerto Rican/Hispanic Youth Leadership Institute is to empower students and help them develop leadership skills; give them opportunities to interact with positive role models; create partnerships among educators, business leaders and students; and educate students about the State legislative process.
Tarrytown/Sleepy Hollow
Sleepy Hollow High School Students Attend Holocaust and Human Rights Leadership Institute
Seven sophomores from Sleepy Hollow High School joined students from 34 local high schools attending an all-day conference organized by the Holocaust and Human Rights Education Center. The students were able to take part in workshops tackling topics like homelessness and poverty, hate crimes, anti-Semitism and the Black Lives Matter movement, along with other  international crises.  The group chose two issues to focus on and will join members of the Model UN Club to plan an awareness campaign and several activities geared toward those issues. The events will take place during the week of May 22-26.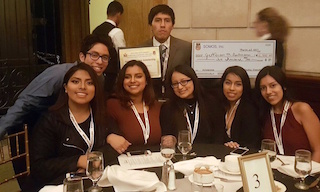 Tarrytown Parents and Students on the Dangers of Drunk Driving
Jonathan Strongin, Assistant District Attorney for Westchester County, delivered a presentation on the dangers of drunk driving to parents and students on April 5th. Strongin was the lead prosecutor in the wrong way driver on the Taconic Parkway case several years ago and has extensive experience in this area.
It's Pippin in Tarrytown
Thespians were in high spirits as Tarrytown High School put on their show of Stephen Schwartz's hit, "Pippin," in early April.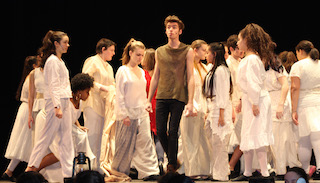 Senior, Henry Titcomb was center stage as the show's lead role. In a video on the School District's website, Titcomb explains the plot of the classic musical. The students put on three performances that weekend.  In addition to Henry, the "Pippin" cast included Jashon Sample as the Leading Player, Mary DelVecchio as Catherine, Peter Moriarty as Pippin's dad, King Charlemagne, Helen Carr as Pippin's stepmother, and Elise Johnson as Bertha.