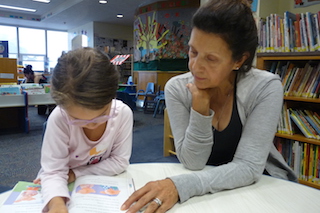 Warner Library Back to Basics
Helping children succeed in school is one of the core missions of any library. Warner is partnering with the Foundation for the Public Schools of the Tarrytowns to get the word out to parents of young children about the Tarrytown/Sleepy Hollow Basics.
Photo: Reading at Warner on a rainy day.
The basics campaign is inspired by research that shows that 80% of a child's brain development takes place in the first three years of life. Parents are encouraged to make five basic principles part of everyday life.
They are:
1) Maximize Love, Manage Stress
2) Talk, Sing and Point
3) Count, Group and Compare
4) Explore and Discuss through Movement and Play
5) Read and Discuss Stories.
The Warner Children's Room and staff are here to support all of these activities. Caregivers and children from babies on up can participate in any of six storytimes that take place each week, including a bilingual story time. Story times are more than reading books aloud; they feature songs, finger plays, counting and movement.  While here for storytime, take a moment to discover all the toys in the children's room which inspire building, organizing and creative play. The dollhouse, farmers market and train set are perfect settings for imaginative interactions between you and your child.
Thousands of board and picture books are available to you to share with your child once you have a library card.  There are even themed backpacks filled with books, puzzles, music and crafts that can be checked out by busy parents who don't have time to select items individually. If your child enjoys eBooks, explore Tumblebooks, animated picture books available online, by scrolling down and clicking on Download Books and Music on warnerlibrary.org.
Make museum visits a regular part of family life by checking out a free library museum pass sponsored by EF – Education First language school in Tarrytown.  The Hudson River Museum pass which includes planetarium shows is sponsored by Jean and Roger Chenault. Check out a weekend pass to Stone Barns Agricultural Center in Pocantico Hills or the Intrepid Air, Sea & Space Museum among others.
Kick up your heels with friends and family at a Fiesta Flamenca workshop scheduled by Rebeca Tomás on September 13 and 24 at 5:30 PM or Swing Your Partner at a Square Dance on Friday, September 28 at 6:30 PM. Find details on these and all of Warner Library's fall programming in our newsletter coming to 10591 mailboxes in mid-September.
Written by Maureen Petry, Library Director
Briarclif Manor Public Library-Fall 2018
As the view from our sunny study area turns from cool greens to vibrant golds, the Briarcliff Manor Public Library welcomes you with fall activities for all ages.
For very young children, stories, books, music and crafts offer fun, while teaching children important skills to build upon. Parents and caregivers can meet at Baby Storytime Lapsit, Fun for Ones . . . and young 2's too, and Hooked on Books. For your convenience these are drop-in, led by children's librarian Amy Kaplan, MLS.
School-age children can sign up for Casual Chess Club, Girls Only & Boys Only Book Clubs, Lego League and Craft-a-Month. Offered in a series, these more specialized classes keep kids engaged in reading, while having fun and making new friends.
Libraries are great for teens. As middle schoolers grow more independent, the library offers activities to keep them engaged: Middle School Parent-Child Book Discussion, Middle School Critics, and a Home Alone Workshop. Busy high school students have much to offer. Teen Advisory Board (TAB) gives students the opportunity to share their skills and opinions and help others, too. Please register with Amy Kaplan at abgkaplan@gmail.com.
For adults of all ages, we have day, evening and weekend offerings.
Our NEW Library Friday Night offering starts with Welcome to Peru with Mariella Diaz-Male. Friday, 28 September, 7:00 PM to 8:00 PM. Our popular movie screenings continue with The Book Club (PG-13), Friday, 14 September, 7:00 PM and Saturday, 15 September, 1:00 PM.
Daytime workshops include Falls Are Preventable! Friday, 21 September, 2:00 – 3:00 PM and Adult Coloring & More, cosponsored with the Briarcliff Manor Recreation Department on Mondays, starting 24 September, 1:00 – 2:30 PM. The Brown Bag Lunchtime Book Discussion Group will discuss Last Days of Night, by Graham Moore on Tuesday, 25 September, 12:30 – 2:00 PM.
Evening workshops and book group include: Online Technology Training. Thursday, 13 September, 6:30 – 8:00 PM; Medicare: Beyond the Basics, Thursday, 20 September, 6:30 – 8:00 PM; Solving the Retirement Income Puzzle,  Thursday 27 September, 7:00 – 8:00 PM and Writing Great Blogs,Thursday, 4 October, 7:00 – 8:00 PM.  The book group, Contemporary Fiction by Award-Winning Authors will discuss Autumn, by Ali Smith on Wednesday, 26 September, 7:30 – 9:00 PM.
Two exciting Sunday afternoon talks are co-sponsored with the Briarcliff Manor – Scarborough Historical Society: Waldheim and the Speyers of Scarborough, Sunday, 23 September, 2:00 – 3:30 PM and New Yorker Cartoons, Sunday, 7 October, 2:00 – 3:30 PM.
Drop by anytime to see the exhibit: Conversation Threads: Art Quilts by Tamar Drucker, 5 September – 30 September.  Or contact Library Director Donna Pesce at dpesce@wlsmail.org or Reference Librarian Shelley Glick at sglick@wlsmail.org or call the library at 941-7072. Happy Fall!
Written by: Donna Pesce, Library Director
September @ the Irvington Library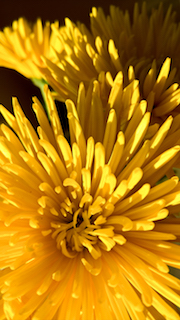 September at the Irvington Library starts with a lovely exhibit of photographs by local artist Randall Shepherd.  You can meet the artist at his reception on Saturday, September 8 at 2 PM.
For children, we have our very popular "Crafternoon with Carolyn" program on Monday, September 17 at 3:45 PM.  This month you will learn about owls and create your very own mini owl to take home.  For ages 8-12, registration required.  Younger children (ages 4-8) can learn about snakes at our "Don't be a snake in the grass!" program on Tuesday, September 25 at 3:45 PM – registration required.  And for children who are feeling left out because their older sibling is at school, come to Robert the Guitar Guy's fun musical program on Tuesday, September 18 at 1 PM.
Teens can learn how to make clothespin magnets to jazz up their lockers on Thursday, September 27 at 5 PM, using paint, glitter, washi tape and more. They're great for holding notes, photos, and schedules.
Lest you think all of our craft programs are for children, we are offering "Reading Rocks! Marble Magnet Craft" — put your own unique design under a crystal marble magnet, or make an Emoji magnet to make someone smile! (Suggestion: bring in a tiny photo for a memory magnet!)  Thursday, September 8 at 7 PM.  Registration required.
Are you a senior citizen who is having trouble trying to navigate your way through our complicated healthcare system?  Or do you have an older friend or family member who needs help? Come to our "Demystifying Medicare" program on Saturday, September 22 at 10 AM.  A presentation of the Library System's "Westchester Seniors Out Speaking" will help those who already have Medicare, as well as people soon to be 65, planning their retirement, or assisting relatives and friends with their medical decisions and paperwork. The engaging, interactive program outlines the various parts of Medicare and lays out the costs associated with the medical and drug insurance provided by the government and private companies. Topics include: Original Medicare Medicare Advantage Plans; Prescription drug plans (Part D); Medigaps (supplemental plans); Various cost-saving programs (MSPs, Extra Help, EPIC, etc.).
And if one of your resolutions as we begin a new school year is to read more, perhaps you might like to join one of our book clubs.  The Thursday Evening book club meets on September 20 at 7:30 PM – they will be discussing Gail Honeyman's Eleanor Oliphant Is Completely Fine.  The Book End Book Club will meet on Saturday, September 29 at 10:30 AM to discuss Zadie Smith's White Teeth.
Written by: Rosemarie Gatzek, Library Director
Ossining's Library Celebrates 125 Years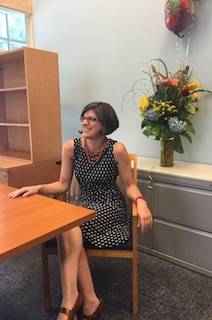 This September, the Ossining Library continues its celebratory programs in honor of our 125th Anniversary, embarks on new initiatives, and prepares for the start of the school year with fun and enriching programs for children and teens.
History buffs are welcome on Wednesday, September 26 for our History of the Ossining Library presentation, led by Village historian Dana White. Town historian Scott Craven will also speak about the history of Carnegie libraries. The program starts at 7:00 PM in the Budarz Theater. Our 125th Anniversary Film Series begins with The Wicker Man (1973), the British cult film, about a police sergeant investigating the disappearance of a young girl. The film will be screened on Wednesday, September 12, at 6:30 PM in the theater.
We are pleased to partner with the Saw Mill River Audubon on Tuesday, September 25, for Wildlife in Ecuador, when travel writer Brian Kluepfel will take attendees on a visual journey from the Amazon to the Galapagos. The program begins at 7:00 PM in the theater.
The Children's Room is celebrating the start of the school year with Back To School With Elephant and Piggie on Wednesday, September 5.
Kids will enjoy storytime, make crafts, and have a meet-and-greet with the beloved Mo Willems characters. The fun starts at 2:00 PM in the Sally Read Dow Children's Program Room.
The Teen Room is looking ahead to SAT season with a series of SAT Prep Workshops presented by expert Mike Goodman. Offering tips, tricks, and practice exams, workshops begin at 3:30 PM in the Conference Room every Saturday in September, from the 1st through the 29th. To register, please call the Teen Room at (914) 941-2416, ext. 336.
The Library is thrilled to offer the first session of our Parent Connections program on Saturday, September 29, from 11:30 AM to 1:30 PM in the Children's Program Room. The three-part workshop will include Together Time, for parents and children to enjoy an activity, Learning Time, for parents to listen to speakers, and Social Time, for parents to socialize. Babysitters will be available during the Learning Time portion of the program.
Written by: Karen LaRocca Fels