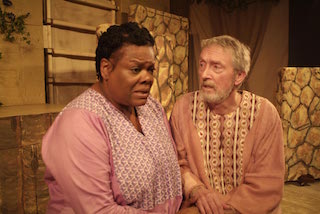 A new black box performance space on the Ossining waterfront has expanded possibilities for the multicultural group of playwrights and thespians. In 2010, a group of around 15 local playwrights, actors and directors found themselves faced with a dilemma and a dream. They'd just experienced the latest in a series of dissolutions of local theater companies, yet they were steadfastly determined to continue their quest to create a different sort of theater company: one that would help develop and produce only new, never-before-seen plays written by local writers, performed by local actors and directed by local directors.
They were, in other words, artists in search of a home.
Photo: L-R – Donna James as Sarah and Kurt Lauer as her husband, Abraham, in Albi Gorn's "Lot's Wife."  Photo by Ken Skalski.
Looking for a leader to help them translate their vision into reality, they found that person in Alan Lutwin, who soon became WCT's executive director.
"Community theater is great, but revivals and classics weren't what we were about," says Lutwin.
WCT remains the only theater group in Westchester unwavering in its commitment to accept only new, never produced works. He notes too that he accepted the challenge partly because, as an Ossining resident for 23 years, he knew that the Hudson river town was the perfect home for such a group. "Ossining is noted for its diversity and multicultural wealth of talent. And it's been actively and successfully in revitalization mode for several years," he says.
An ambitious agenda, especially as the group was willing to set high standards for themselves – all were seasoned veterans of their respective crafts, accomplished actors and directors (some Equity) working alongside award-winning, produced playwrights.
"We wanted 'new,' but that didn't mean we were willing to compromise on quality," says Lutwin. "The question was how to make it happen with zero budget."
From the onset, the group was dedicated to avoiding the cutthroat competition that seems to be an accepted part of the theater world in the City. They chose a different route: collaboration. Naming the group evolved organically: Westchester Collaborative Theater.
The guidelines and modus operandi remain the same now as at the launch. All participants are required to become members; actors audition and writers must submit samples of their work.
Labs or workshops meet three times a month – for the first years all were held at the Budarz Theater of the Ossining Public Library. Actors read works that vary in length from 10-minute plays to full-length pieces. These are collectively dramatized in a supportive, constructive environment. Following the lab process, plays are selected for either readings before audiences or fully-staged productions. Readings occur between three and four times a year; full productions take place twice a year.
In 2013, WCT began to alternate workshops and productions between the Budarz and the upstairs level of the Steamer Company Firehouse at 117 Main Street.
"A couple of times alarms went off during a workshop; the activity didn't bother us – other than adding to the excitement. It's all theater," says Lutwin.
WCT staged its first fully rehearsed mainstage production, "Forget About Me," by Ward James Riley in 2014. The play and the acting were deemed top notch by critics and audiences alike and drew full houses for virtually every show.
Another WCT innovation that has caught the public's eye is the ongoing Living Arts Event.
"We extended our collaborative reach to the visual arts and worked with the Ossining Arts Council (OAC)," says Lutwin.
WCT members create short plays based on art works exhibited annually by the OAC at the Ossining Library. WCT/OAC then co-produce an event where OAC docents take the audience on a tour of works that spring to life through actors performing the plays. Under the skillful direction of WCT's executive producer, Karina Ramsey, WCT's well-attended Living Arts productions are considered among its finest efforts. The next Living Arts Event is scheduled for 2018.
WCT's next full-length, mainstage production was "A Short Walk into Sunshine" by Joe Albert Lima. The production featured a mainly African-American cast, and was a winner with critics and viewers alike.
In 2014, Lutwin and the board began its search for a more permanent home.
"After years as a vagabond troupe, it was time. We needed a vacant space that was available and affordable. For two years, we searched throughout Ossining Village until we found a space which looked like it might work – the potential was there. We did substantial build- out to design from an old cabinet-making factory and took 15 months to renovate and secure permits to enable us to open."
The result: a black box performance space located at 23 Water Street that offers enormous versatility. On the Hudson River waterfront and across the street from the Ossining train station, it is a convenient train ride from points north (Putnam and Dutchess Counties) and south for a reverse commute from Manhattan. It's also an easy drive with ample parking at the train station evenings and weekends.
In March of this year, WCT staged its first full-length play in the new space – Albi Gorn's "Lot's Wife," directed by Ramsey. The play received rave reviews and played to sold-out crowds for virtually every performance.
In April, WCT celebrated an official ribbon-cutting ceremony followed three days later by its first cabaret-style concert featuring blues and jazz legend KJ Denhert, an Ossining resident. "It's an easy transformation from theater to cabaret," says Lutwin, noting that the space is available for rent by local performing artists. WCT labs now alternate between the space and the Budarz Theater.
What's next for WCT?
"We have a home!" says Lutwin. "We already have a full slate of concerts, readings, and plays scheduled, but that's just the start."
It remains true: There's no place like home.