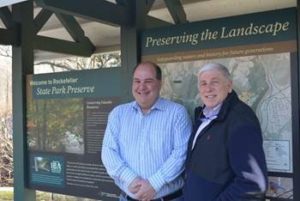 The Friends of the Rockefeller State Park Preserve welcomed Peter Iskenderian, the new Preserve Manager for the Rockefeller State Park Preserve.
George F. Gumina, Founder of the Friends of Rockefeller State Park Preserve, stated: "Peter has extensive experience in managing parks, especially the Preserve and Old Croton Aqueduct where he worked over 15 years ago. He is familiar with the land, understands its historic significance, and has been able to hit the ground running. This is important because there has been increased activity at the Preserve since it was named to the State Registry of Historic Places."
Peter comes to the Preserve after serving the last twelve years as Park Manager at Moreau Lake State Park and Grant Cottage State Historic in Saratoga. A Rockland County native, he started his career as a park ranger at the Tallman Mountain State Park in Sparkhill. He also served as the Manager of Operations of the Old Croton Aqueduct State Historic Park and Rockefeller State Park Preserve (RSPP) from 2004-2007.
"I've always held RSPP in a special place and I was continually striving to return here again to carry on the history and preservation of this special facility," said Iskenderian. I am looking forward to everything ahead of me, rebuilding the partnerships that I had made 12 years ago and continuing to make this one of the most special places in New York State."
This past December, the New York State Historic Review Board voted unanimously to designate the Preserve and its 65-mile carriage road network for inclusion on the State Register of Historic Places. The designation recognizes the unique beauty and character of the 16-foot-wide, crushed-stone pathways designed by John D. Rockefeller Sr. and his son, John D. Jr., over a 40-plus year period from 1910 into the 1950s. The winding carriage roads are the signature feature giving the Preserve its distinctive and elegant look and feel and are integral to its overall appeal. The State Park Preserve's network includes well-engineered loops that traverse the property offering stunning vistas.
Over 400,000 visitors from around the world walk the roads each year, joined by countless joggers and equestrians. The Rockefeller Preserve includes over 2,000 acres, 65 miles of Carriage Roads, a 22-acre Swan Lake, circled by Brothers' Path, the gateway to the Preserve.
The mission of Friends of the Rockefeller State Park Preserve is to help restore and maintain the Preserve's unique system of carriage roads and pastoral landscapes and to support educational programs and passive recreation such as horseback riding, fishing, hiking, jogging, and photography in a tranquil setting. For more information visit www.friendsrock.org