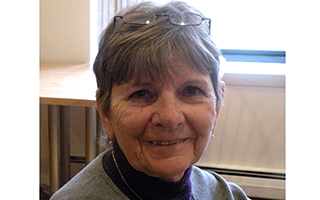 Thanksgiving brings with it the warm and piquant smells of cinnamon and cider, wafts of roasting turkey from the slightly ajar oven door and glorious pies of all varieties reserved for this day and this day alone.  These smells are remembered from all the Thanksgivings that have gone before. We can shut our eyes and be transported back in time to past Thanksgivings and once again be surrounded by the familiar faces and places we have shared together.
At right, Alice Dunkley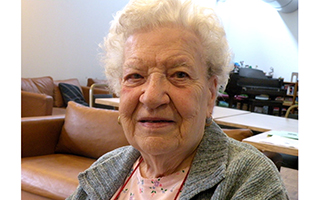 I can remember my grandmother telling me about all my long gone relatives who once served the same Thanksgiving foods from the same dishes that were on the table.  This year those same foods will be served in those same dishes as I tell my children the stories of my grandmother and those that came before her. Whether they will eat the onion pudding or not is another matter!
Three Briarcliff grandmothers: Alice Dunckley, Ruth Ragona, and Lena Manno, sat down with me to share what they are thankful for this year.  The women get together each week to knit and chat. Both Alice and Ruth have lived in Briarcliff Manor for nine years and have their own apartments. Lena has lived in Briarcliff Manor for twenty years.
All three laughed and concurred that being alive was the thing they were most grateful for, alive to be able to enjoy another Thanksgiving with their families.   Ruth Ragona has four children, 7 grandchildren and 5 great-grandchildren.  Her daughter lives in Briarcliff Manor.  Alice has five children, nine grandchildren and one great-grandchild. Her daughter lives in White Plains so they are both able to see their families often.  They are thankful that their grandchildren can help them with modern technology, which they find can be perplexing. "I finally got rid of my internet service," says Alice. "I used to be on Facebook so I could see the photos that my children were posting of my grandchildren but I decided that if I really needed something online, I would just go visit my daughter.  You don't need the internet to play solitaire anyway!"  She won't give up her cell phone with the camera, however. She is thankful for some modern technology.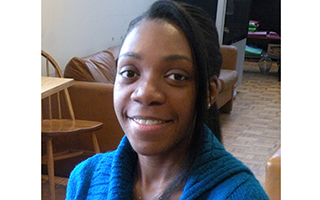 It is not just the sweet memories and experiences that they are grateful for. Life comes with spice as well.  Both Alice and Ruth remember, as children, the air raid drills and blackouts of World War II.  Alice's father was an air raid warden. "We had prearranged buddies in the neighborhood so that if something happened, we could go to their houses or they to ours."  Thanksgiving is a time to be grateful for the sacrifices others have made for us whether they are veterans or grandmothers or neighbors. Sometimes it is the life events that are particularly painful and difficult that help us to deepen the gratitude we have for the simple things that we take for granted.
Lena Manno, who is functionally deaf, is full of enthusiasm for life.  She is grateful for her health and the health of her family
All three women are thankful for living in Briarcliff Manor. " I love the Village of Briarcliff. It is so quaint and I particularly like the access to the [Hudson] River," said Alice. Ruth tells us that there is a bus that comes right to where she lives and takes her wherever she needs to go. There are also discount coupons for seniors in Briarcliff so that they can get reduced rates for taxi services. Ruth uses public transportation to get to her church, St. Augustine's in Ossining, and sometimes goes to the senior center in Ossining to play bingo and get a hot meal.  Briarcliff Manor does not have a senior center but it does offer comprehensive programs for seniors.
Ruth, Alice and Lena say they are very grateful to Stephanie Rossi, Director of Senior Citizen Services in Briarcliff, and to Samantha Wilkenson, who is the Senior Advocate for the Village, for all the interesting programs and trips they offer to seniors. The town offers senior yoga and other fitness classes but what they really love are the many trips they have been able to take.  Ruth Ragona remembers fondly a trip to the Octoberfest last year, held in Hawley, Pennsylvania, and another trip to the Cloisters Museum. An upcoming event to see White Christmas at the Westchester Theatre is much anticipated as well.
It takes a long time to become a senior citizen, a long time to figure out what is truly important in life. This Thanksgiving, while the turkey takes its time to be ready, take the time to really engage with a senior citizen, whether it is in your family, neighborhood or local nursing home. Ask them what they are grateful for and you may find they hold invaluable clues to help to focus in on how to truly live the good life.
For Ruth, Alice and Lena that means faith, family, fitness, and fun. Wishing all of you a Happy Thanksgiving  and may it be filled with faith, family, fitness and fun…and food!