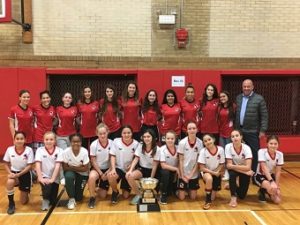 Of the 21 Sleepy Hollow Football Club (SHFC) teams participating in the fall county-wide leagues, seven won their league championship. "We have more than 275 players and 40 adult volunteers and are grateful for the unwavering support of our families and extended community," said SHFC's Director Matt Evans.
Coaches Fergus O'Sullivan and Herbert Weltig of the U14 boys' team repeated their spring 2018 Division 1 championship with a win in the fall. They were the top team out of 38 U14 boys' teams and led Division 1 in offense and defense while clinching the championship one week early. "This is a phenomenal performance and one that the whole club should take pride in," said Evans.
Francisco Mendieta, Mark Taylor, and Cedric Smith coached the U14 boys to the Division 4 championship. This is the second time they have won the Division in the past three seasons.
Blaze, the girls' team made of up players under age 12, claimed a Division 1 championship. Blaze beat out 34 other teams to win the title. Coach John Sutherland also coached the SHFC varsity Mustangs in their mini-season. The Mustangs are the oldest SHFC team, now in their 8th year, but this was their first year participating in the varsity Division and they were the youngest team in Division 1. Sutherland's team beat out 12 varsity squads to win the championship, making the Mustangs the top girls' team in the Westchester Youth Soccer League. Both the Mustangs and Blaze will play this winter indoors at Chelsea Piers with hopes of defending their titles in the spring.
Coach Brad Scheller delivered back-to-back championships for the U10 Red Lions, winning Division 5 in the spring and now Division 4 with only one loss. "This is always a tough task as most teams that move up a Division face tougher competition the next season," said Evans. The Red Lions will also participate in the winter indoor season at Chelsea Piers to get ready for the tough Division 3 in the spring.
Fusion, a boys' team of under age 11 players, won their second Division in three seasons, going undefeated with a 9-0 season. The team, coached by George Papadopoulos, Ken Mackiewicz, and Michael Degen, led their Division in defense with a 28 goal differential.
Seasoned SHFC coach Gary Fairley took on the new challenge of training our youngest U9 boys All Reds with the help of assistant coaches Oladipo Ashiru and Aaron Lucchetti. While most teams had a relaxing summer, the All Reds were out practicing every week in the heat and took Division 6 by storm going undefeated.
"I am so proud of our volunteer coaches and the great performances our players turned out, especially in a league dominated by teams with mostly paid trainers," said Evans.