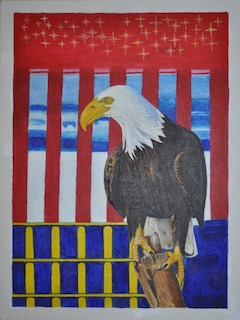 "Images From Behind Prison Walls," an art exhibit of more than 60 pieces of artwork from men and women incarcerated in five New York State maximum and medium security prisons will be on display in the Ossining Public Library Art Gallery throughout July.
Photo: "All I See Is Freedom" by John McKeever – "This water color is Freedom for all people within the U.S., physically and mentally. So that we all will be one mind, one people."
All the artwork has been created by prisoner members of RTA-Rehabilitation Through The Arts, a non-profit organization operating in the prison system for over 22 years. The exhibit is offered to the public by RTA in partnership with the Ossining Public Library (OPL), the Ossining Arts Council (OAC) and the Sing Sing Prison Museum (SSPM) in the belief of the transformative power of the arts to change lives and build communities and to display the healing power of art in all its forms.
A public reception will take place Saturday, July 14, from 3:00 to 5:00 pm with refreshments and opportunities to talk with formerly incarcerated Rehabilitation Through the Arts (RTA) artists at the Ossining Public Library Art Gallery.
The Ossining Public Library is located at 53 Croton Avenue and is open Mondays and Thursdays 9 am to 9 pm, Tuesdays 10 am to 6 pm, Wednesdays 1 to 9 pm, Fridays 10 am to 6 pm, Saturdays 9 am to 5 pm, and Sundays 1 to 5 pm. For information visit www.ossininglibrary.org or call 914-941-2416 ext. 327 or 317. For more information on RTA, visit www.rta-arts.org, email to info@rta-arts.org or call 914-232-7566.