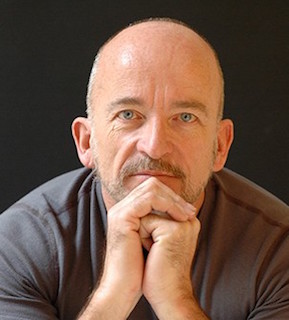 Award-winning poet Mark Doty will deliver the keynote reading during the 7th Westchester Poetry Festival, to be held on the campus of The Masters School in Dobbs Ferry on Sat., April 8. The Hudson Valley Writers' Center is co-sponsor of the event, which is open to the public. The festival will open and close with readings by several Masters Upper School students and will also feature the work of six other acclaimed poets.
Photo: Mark Doty
Mark Doty, a renowned poetry and prose writer, is a Distinguished Professor at Rutgers University. He is the author of three memoirs: Dog Years, Firebird, and Heaven's Coast, as well as a book about craft and criticism, The Art of Description: World into Word.
Doty is also the author of nine books of poetry, most recently Deep Lane. Another book, Fire to Fire: New and Selected Poems, was published in 2008 and won the National Book Award for that year. Doty is the first American poet to have won Great Britain's T. S. Eliot Prize, for My Alexandria (published in 1993), which also received the Los Angeles Times Book Prize and the National Book Critics Circle Award.
"We are delighted to have Mark Doty join us as the keynote poet for this, our seventh festival," says Chris Goulian, Academic Dean at The Masters School. "Providing our students with the opportunity to hear and learn from a poet of Doty's talent typifies the kind of education that we value here at The Masters School. I am confident that he, along with the other outstanding poets joining us this year, will likewise be impressed with the work of our own student poets."
Jennifer Franklin, the Director of Programming at the Hudson Valley Writers' Center," adds: "The Center is thrilled to co-sponsor the Westchester Poetry Festival again. There has never been a better time for us to sit in a room and listen to Doty's poems, which are filled with radical tenderness."

The festival will also feature readings by Joshua Bennett, author of The Sobbing School, a National Poetry Series selection; Tim McGillicuddy, author of four books of poetry, including A Music Box; Kamilah Aisha Moon, author of She Has a Name; Emilia Phillips, author of Groundspeed; and Terese Svoboda, author of When the Next Big War Blows Down the Valley: Selected and New Poems. In addition, Max Ritvo's collection of poems, Four Reincarnations, will be read by his mother, Ariella Ritvo-Slifka.
The event will take place from 1:00-5:00 p.m. in Estherwood Mansion on The Masters School campus.