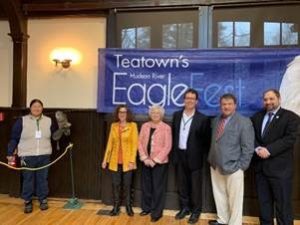 Teatown, a nonprofit environmental education center and nature preserve, announced plans for its 15th Annual Teatown Hudson River EagleFest, which will take place on Saturday, February 9 at Croton Point Park in Croton-on-Hudson. The grand celebration, which is the largest winter collection of wildlife lovers and bird enthusiasts in the region, is a highly anticipated event that celebrates the return of the bald eagle to the Hudson River Valley.
Teatown Executive Director Kevin Carter expressed why this year's event is both an exciting and important event for everyone in the Hudson Valley region. "To help celebrate the 15th anniversary of EagleFest, we wanted to illustrate how climate change effects everyone. We have designed a program that touches every part of our community, from children to seniors; elected officials to non-profit organizations. We want the thousands of people who attend EagleFest to see, learn, and act on what they learn so they can have positive effects on our environment."
The event's organizers were joined by Westchester County Executive George Latimer; New York State Assemblywoman Sandy Galef; Ossining Town Supervisor Dana Levenberg; and Mayor of the Village of Croton Brian Pugh.
Teatown is proud to announce that a new feature of this year's EagleFest is the EagleFest Passport. The Passport invites EagleFest guests to visit six environmental and non-profit organizations' tables in the exhibit tent at Croton Point Park, where they will learn about each organization's efforts to protect and preserve our Hudson Valley environment, complete an activity, and earn a stamp in their Passport.
Participating organizations include Riverkeeper, the Watershed Agricultural Council, Zero to Go, The Green Business Partnership, the Lower Hudson Partnership for Regional Invasive Species Management, and Teatown.  Completion of the passport (all 6 stamps) qualifies the visitor to be entered into a drawing to win one of two great prizes from Zeiss Sport Optics: 1) Conquest Gavia Spotting Scope Package: 30-60×85 Scope with tripod (retails at $2,599.99) and 2) Conquest HD Binoculars 8×42(retails at $999.99).
The annual EagleFest celebration allows visitors to see live birds of prey and provides opportunities to view our country's national symbol in its natural setting.  Various birds of prey species will be featured in a special program led by nationally renowned experts in the handling and care of the birds.
EagleFest 2019 will be held on Saturday, February 9 (snow date is Sunday, February 10) at Croton Point Park, 1 Croton Point Avenue in Croton-on-Hudson from 9:00 am to 4:00 pm. For more information and to purchase tickets, visit teatown.org/eaglefest.